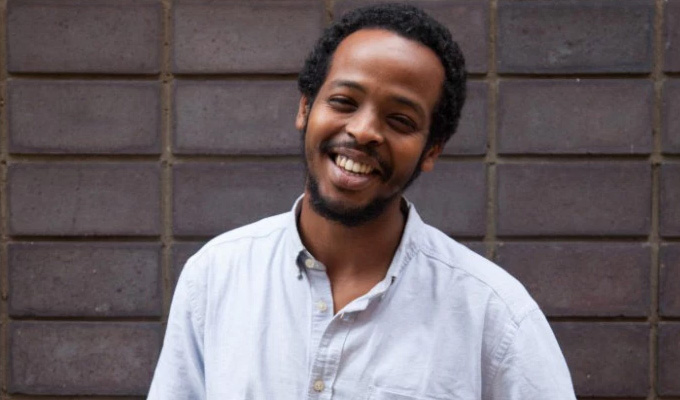 Leicester Square Theatre New Comedian of The Year 2017
Note: This review is from 2017
Fifteen new acts – plus a headliner – over a three-and-a-half hour gig might sound more like a demanding endurance test than a fun night out. But thanks to a very strong line-up, Leicester Square Theatre's New Comedian Of The Year final entertained to the end. In fact, you might even feel sorry for some of the contestants… on a different, weaker, year any one of maybe half a dozen would have a strong chance of taking the title.
With the unenviable position of opening the show – after some first-rate compering from inveterate piss-taker Mick Ferry – was Jack Gleadow, a veteran of many similar finals. His old-school silliness, with no greater motive than to muck about, set a good spirit of fun for the night as he dragged up some audience members to enact a scene. It's Tape Face meets Bobby Ball (the twangable braces adding the image) while his cheery Hull tones enhanced the sense of impish play. It was enough to score him third place on the night.
Will Rowland was playful, too… but more intellectually so as he twisted around the conventions of comedy, such as his observational line about his washing machine, or irritating any mathematicians in the room with his theoretical concept of Graham's Number. His line of thought could be as frustrating as much as it was funny, and the payoffs could be sharper, but he has a spring in his step when it comes to performance.
Isa Bonachera establishes herself as a weird outsider before she says a word, just in the way she backs up towards the microphone. The strong Spanish accent reinforces that idea of strangeness – and then we get to the material: an eccentric catalogue of non-sequiturs and offbeat comments. By many measures she's all over the place – she darts about between subjects and her cadences are off. But that's a strength, too, casting her as distinctive. She always seems to be serving up new material and, over the past couple of years, her delivery is becoming more consistent, making slow but steady steps in the right direction, even if she's not there yet.
Lively Rosie Holt got off to a cracking start with a great analogy about sexual assaults, likening it to her alleged habit of blowing smoke in babies' faces, just because she enjoys it and regardless of the damage that does to them. She lost her way extending a too-similar metaphorical approach to other subjects, notably dating, but an animated performance jollies everything along.
Bennet Kavanagh emerges with a keyboard strung around his neck, with a promise to merge the precision of comedy with the soul-stirring beauty of music. He's joking, of course, although the instrument is more than a prop since his set is entirely about the use of music in films – specifically the funky bass line used under montages in heist movies like the Oceans films. It's a very specific reference, yet he makes his whole routine about it. The obsession is too much, in truth, as he extends the observation without adding to it, and the initially promising routine starts plodding along. But he's likeable company.
After the first interval, Huge Davies kicked off with the wistful: 'Just when you've got an original routine…' as he, too, brandished a keyboard around his neck. Being placed so close to the similar Kavanagh was a setback, especially as he, too, had a joke about backing music, which he didn't think to omit. Davies's scope is wider than Kavanagh's, though. A calling-card routine is a spot-on parody of mainstream dance music, while he also offers a tongue-in-cheek response to those who think comedians with instruments are cheating.
After a couple of laid-back performances, Northern Ireland's John Meagher grabbed the gig by the scruff of its neck with a loud, fast and punchy delivery. Thought the in-your-face style ensures the set is vibrant, he does little to dispel stereotypes, about the island of Ireland being a mad, backwards place, and the meat of his set feels a little unadventurous. He takes his foot off the gas for the last section of the show, which has a more evocative, storytelling vibe – but plays into a similar notion of Ireland as a place of mystical whimsy.
More high spirits with Mo Omar, a cheeky livewire of a performer who steamrollers into some potentially contentious areas with a devil-may-care chutzpah – if that Yiddish word isn't inappropriate for a lapsed Muslim who admits his former faith proving no match for the attractions of alcohol. Born in Somalia, Omar has a winningly irreverent attitude to sacred cows, with a fresh and feisty delivery that gives him a contemporary edge, and earned him a well-deserved first place on the rostrum.
Another commanding performance came from Chloe Petts, who skilfully managed to maintain her status as the self-proclaimed 'alpha-male' of the room while being fiercely self-deprecating. The first section of her set concerns the travails of becoming a lesbian mum with her more delicate, attractive other half and pondering what sort of man might contribute the sperm. There's nothing to especially stand out in the material, but her attitude makes it shine – likewise the look back at her PG years, 'pre-gay', is superficially simply inviting laughs at an embarrassing old photograph, but it's done with nice detail and compelling presence.
Turning the energy dial right back down to zero was Simon Lomas, a Mad magazine cartoonist's vision of a shy geek, delivering with no eye contact whatsoever, save for one brilliant break in character. Sometimes, in previous shows, that lack of connection has felt very alienating, but in a larger room, he seems to pull it off. The deadpan pace is a little too slow – leaving enough space for you to figure out some punchlines before he delivers them – but the writing is strong, efficient and offbeat, with an enviable hit rate.
Akin Omobitan held the room rapt with a creepy tale of a body floating in a canal, an expert example of compelling storytelling – even if there was no intent to be funny for a good couple of minutes. Turns out to be an analogy for his tedious day job, which he savaged with furious frustration – a sizzling performance in contrast to the quiet, evocative approach of earlier. The only issue, really, for a comedy routine is that there weren't that many jokes, and it seemed like more of a theatrical masterclass than a comic one.
After slickness, awkwardness with Luxembourger Anne Klein, who is clearly uncomfortable in her own skin. Her nervous, agitated stance certainly doesn't seem like an act and makes it hard for the audience to relax in her company. She has some gently funny lines from her low-status position, not living up to her childhood dreams of being a princess and being bad at flirtatiously laughing at men's jokes. Some of her set goes for weirdness over humour, too, as she goes on peculiar excursions about peeling her skin, for example, which don't get the audience on board.
If Janine Harouni seems more like an actress than a comedian, there's good reason for that, for this is familiar thespian set about the bad life choices she's made and being forever out of work… a fact which might explain the move to comedy. Her acting tales include a humblebrag about working with Keira Knightly and getting her line wrong – and, yes, she does do an 'oops I dropped that name' mime while introducing this slight story. Elsewhere her take on British men being mostly uncircumcised feels a little bit like old news too.
Ali Woods also has a theatrical bent to his delivery, but while that declamatory style might initially seem too much, his vigour wins over the crowd, giving a boost of energy just when the room needed it. The forceful, ranty delivery is backed by lines that are offbeat while staying true to a mainstream young-white-guy-comic persona. Case in point, he even gave the stereotypical 'ginger' gags a new twist. Pretty much a club-ready comic, he took silver on the night.
You have to admit JB Carter's commitment to the cause, dedicating all his allotted time to the subject of 'sac babies' – the rare occurrence when a baby is born while still inside their amniotic sac, and which Carter assumes gives them some sort of superpower. Points, too, for originality then, as this is hardly hack stuff. Sadly, though, he just didn't get the audience on side with his odd train of thought, and his determination to see this through, come what may, proved more a help than a hindrance. such a routine might work better in a longer set when we know where he's coming from… but here the material felt obtuse for the sake of it. Seems like his career's having a difficult birth, too.
Review date: 19 Dec 2017
Reviewed by: Steve Bennett
Recent Reviews
What do you think?