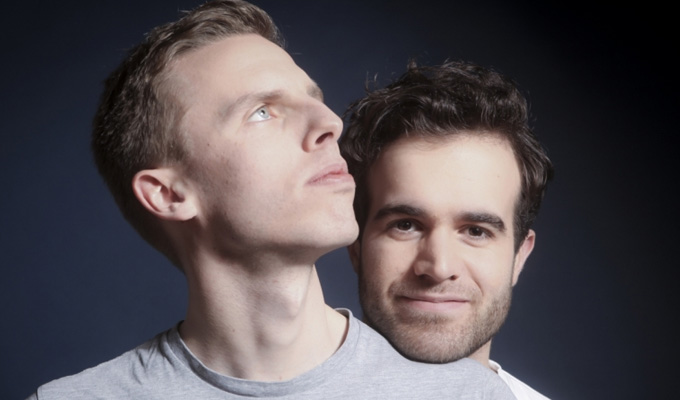 The Harry & Chris Show 2
Clean-cut comedy duo Harry and Chris have a winsome charm that's won many fans for their family-friendly ditties with uplifting messages of self-affirmation. The pair are inspiring Instagram posts in human form, garnering lots of likes – as their enthusiastic reception from the Leicester Square Theatre audience attests.
Harry Baker is a former World Poetry Slam champion and Chris Read an acoustic jazz singer-songwriter cut from the same whimsy as Jack Johnson. Friends since primary school, their palpable mutual affection means they exude an unaffected warmth on stage. Though their performances are necessarily tight, the slick banter comes from a genuine place.
With a clear boys-next-door appeal, they are so hugely likeable that it seems churlish to point out that their work is often lightweight.
Comically there are a lot of puns that they sell through cheesy charm, unabashedly dropping phrases like 'Armageddon-on-with-it'. There's a Christmas-cracker style joke about 'Spruce Forsyth' and a freestyle reference to a 'plastic sturgeon' among many other cheap wordplay. If ever the the comedy doesn't work out they could have jobs writing functional headlines on a tabloid newspaper.
The songwriting is better than the gag-writing, and individually their compositions have a pleasing, elegant quirkiness, while Baker has a great ear for the rhythms and rhymes of language and Read a mellifluous singing voice. But there is a sameness to the tracks that doesn't offer much texture over a 90-minute show.
They play on a slight nerdiness – Harry mentions his maths degree frequently, – while their repertoire includes a tender lament as if sung by Robot Wars villain Sir Killalot and a rewrite of a One Direction song (the only traditional 'song parody' they do) to make it about Monopoly.
At their heart, such songs are about celebrating your individuality and taking joys in life's simple pleasures, in line with the affirming, feelgood vibe that pervades their work.
There's no denying they make their fans happy with an effortless affability, but those seeking a bit more grit and passion to their comedy might feel a little underwhelmed.
• Harry and Chris have four more tour dates this year (details) and are back at the Leicester Square Theatre on December 29.
Review date: 14 Dec 2017
Reviewed by: Steve Bennett
Reviewed at: Leicester Square Theatre
Recent Reviews
What do you think?