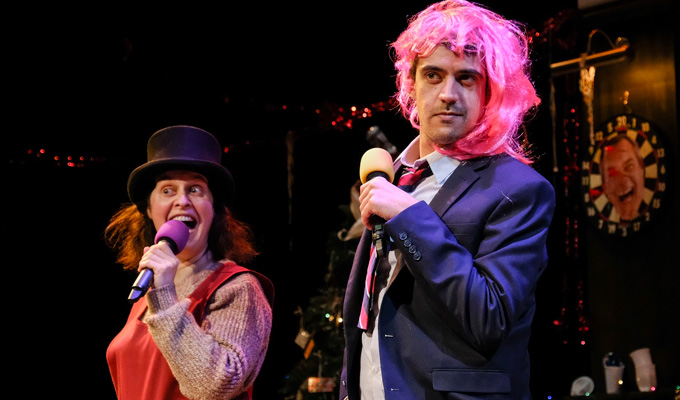 Working Christmas
So this is a Christmas play about two people who don't celebrate Christmas. Coming to amid the detritus of an Oxford college party, a Muslim child of privilege called Omar encounters a cleaner called Jo, a down-on-her-luck woman who doesn't want a Yuletide reminder of the family life she doesn't have.
Working Christmas is, therefore, something of a reminder that this time of year isn't a festive scene of cosy family harmony, roaring fireplaces and quirky knitwear for everyone. Or possibly for anyone.
This message is laid on slightly too heavily, but leavened by a fascinating unfolding story, a generous dash of tongue-in-cheek wit and engaging performances from Jo Neary and Omar Ibrahim, whose backgrounds as comedians give them a healthy disrespect for the fourth wall.
As the audience file in, they're leading a karaoke sing-song… it's a small crowd tonight but the actors do their spirited best, and it's easy to imagine a full house getting full of the seasonal spirit,. After a bit of what once would have been called front-cloth business, chatting the audience and warning of proper drama among the comedy, we're into the play proper.
After their initial encounter, the pair start sussing each other out. Not realising Jo's homeless, Omar quickly pegs her as an archetypal Daily Mail reader, racist and dim – and her awkward stumblings around mentioning his background only add to that image. She thinks him stuck-up and elitist, out of touch a different way.
But they come to realise there's a more to each other than that, as layers of their back stories are revealed, and they forge a stronger bond. It's quite affecting when they acknowledge each other as friends - part of the soppy Christmas payoff we'd want - as well as a timely image not to see everyone in terms of broad archetypes.
The script, by Jonny Donahue of Jonny & The Baptists and James Rowland, acknowledges its duty to have a happy ending, and has a few laughs along the way - although things get a lot more serious in the second half, which sets a tone deliberately at odds with the jollity between acts.
An earlier song, in the style of an old-school holiday classic sung by Bing Crosby and Marilyn Monroe, best sets out the writers' stall as it alternates verses between snow-kissed idyll and a cynical picture of harsh reality. (Though for Christmas songs, the soundtrack here could have more catchy hooks). In playing both sides, the play tries to have their figgy pudding and eat it, and it mostly comes off.
Occasionally the tone could be sharper. For example. the smug liberal consensus behind easy jokes about Mail readers are challenged, though only gently: those very same lines still land hard with a like-minded lefty audience.
But the story keeps your attention, as our characters become more rounded – and crucially more vulnerable – while the playfulness of the performers provides a suitably festive wrapping for that engaging yarn.
• Working Christmas is on at the Old Fire Station, Oxford, until December 23
Review date: 13 Dec 2017
Reviewed by: Steve Bennett
Recent Reviews
What do you think?