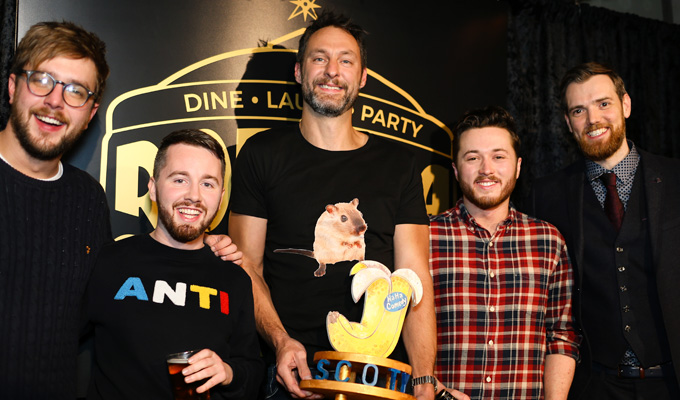 Scottish Comedian Of The Year 2017 final
Note: This review is from 2017
The Scottish Comedian Of The Year final has been held in some large and distinguished spaces, from the Barrowlands Ballroom to Glasgow's Old Fruitmarket, but this year's venue is a more modest affair - the new Rotunda comedy club. Although what's lost in prestige is gained in atmosphere – even if host host Iain Stirling did have to put some effort into cheering up a particularly unimpressed punter who chose to sat front and centre.
First of the contestants was Rosco McClelland, attempting to retain the title he won last year. He took a little time to get into gear with some unexceptional grumbling about a hostel he stayed in, but a silly prop, apropos of nothing, brought the room on side, and provided the first example of the whimsy that's his strongest card. A ridiculous fantasy about befriending a spider cemented the silliness – he surely is a modern-day Robert The Bruce! As well as his surreal storytelling, McLelland also tests the tolerance of the audience with some painfully contrived puns that he dares us not to wince at.
Second up was Kirsty Morrison, the only woman on the bill, who struggled to connect with a story of sending off for a DNA test to find her family heritage. The simple idea of her racist father finding out his part Iranian gets muddled with punchlines relying on some peculiar assumptions, including the 'fact' that Iranians are supposedly universally hated and conflating Persians with Arabs. Meanwhile, claiming 0.4 per cent Jewish genes probably isn't enough to justify a gag that would have been considered ancient in the days of the Borscht Belt. Otherwise she offered predictable stuff about not displaying bodily functions in the early days of a relationship that's been done often and better before.
Stephen Buchanan secured second place on the leaderboard with a robustly constructed rant about the Old El Paso Mexican food kits, a well-chosen piece of minutiae to get comically het up about. In contrast, there's surely more to be said about his mum taking in a refugee - a fact just skated over here. Buchanan peppers his routines with asides, from the inspired to the hack, but it's a spritely, engaging set overall.
Speaking quickly, with a nervous intensity, Ross Leslie packed his routine with gags, but struggled to find traction, a result of quantity over quality, perhaps. Telling us that someone thought he was Austrian when he said he was 'autistic', for example, stretches credibility for a mediocre punchline, while other payoffs are predictable as he shares the travails of being the father of four boys.
Jamie Dalgleish was another former winner seeking the title for a second time – although his attempts were initially thwarted my a misbehaving sound system caused, it turned out, by promoter Alan Anderson spilling his pint on the mixing desk.
Dalgleish took it all in his stride, endearing him to the room, although his set had to come to a short halt while the lager-logged equipment was replaced. After the restart he demonstrated a puckish spirit – even his opening line is 'hello Glasgow, you pack of fannies' – and a keen eye for the ridiculous, which he encapsulates in quirky, daft punchlines, delivered with roguish charm.
Leo Kearse took an even more mischievously provocative stance. Who else would date tell Glasgow that Margaret Thatcher was a hero? And in true Thatcherite spirit his reason for thinking that is 100 per cent selfish. He churns out the gags, provoking a steady stream of laughs in his tight set, which strides purposefully between topics with muscular, efficient lines on each. A story involving a sun lounger is a wince-inducingly strong bit of descriptive slapstick, and felt like a closing routine… although he topped it with an observational chunk about buying train tickets online – not the most inspired of premises, but a textbook example of execution. Kearse was both an audience and judges' favourite, and the deserved winner.
Donald Alexander had a much tougher time standing out, with relatively underpowered writing and little consistent sense of what his persona or outlook was. A bit about his family seemed to exist only so he could coin portmanteaux like 'funcle' for fun uncle. He went on to speak about teaching kids about Islam, although perhaps out of caution had little to tell us about it; explained the Holy Trinity in a deliberately confusing and literal way; and offered a weird diversion about baked potatoes, inadvertently foreshadowing a much stronger routine from another finalist.
Had there been a prize for most Scottish content, it would probably have gone to Marc Jennings, with an enjoyable segment on local pronunciations, which had a nice comic cadence even if other stand-ups have commented in the unique second person plural of 'yous' before. Tales of working in a call centre were more pedestrian, a moan about the job that was perhaps more a plea for us customers to be less hard on those on the other end of the line than anything else.
Working in a second language, French comic Sébastien Dall'Ozzo didn't quite build an entente cordiale. Some gags, especially on sex, were predictable, and his stories tended to be too convoluted, losing chunks of the audience as he went. The writing often seemed forced and stilted, more contrived than conversational – an effect probably exacerbated by his accent. Although a Parisian saying 'bawbag' is inherently funny, and the visual gag about Skype is what you'll remember him by even if, again, it's a little obvious.
Stuart McPherson skilfully picked up on Jennings' gripes with a fine display of 'onedownmanship'. If you think a call centre's an awful job, he argued, you should be in his shoes manning a baked potato stall in Glasgow Central station. His was a vivid portrayal of the absurdity and misery of his employment, not just a simple complaint but a bleak, existential cry about the mundane futility of existence. With jokes. Strong stuff indeed, surely good enough for him to seek a path away from the tatties and into a job as a full-time comic. His third placing tonight should help.
Review date: 27 Nov 2017
Reviewed by: Steve Bennett
Reviewed at: Glasgow Rotunda
Recent Reviews
What do you think?