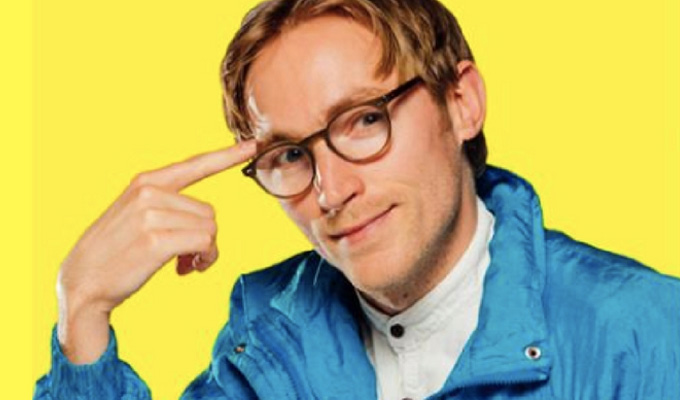 Christopher Bliss: Writing Wrongs at Pleasance Islington
The internet has made creators of us all, which makes Christopher Bliss – a self-styled novelist of zero talent – seem particularly relevant.
Route One would have been to make him a pompous, pretentious arse, but Rob Carter's alter-ego - respondent in turquoise windcheater – is just a fizz of boyish enthusiasm, so utterly benign in his idiocy that you're happy for the inordinate joy his inelegant writing brings him.
He knocks out several 'novels' a day. Easy when you consider his ideal length of novel is 'one side of A5', and he doesn't stop to consider too many literary niceties such as inspiration, suspense or subtlety.
In a bold leap this year he has written a full 'book', a concept that has come as a revelation to him even though he thinks most are too long and too impolite. Why don't they all start with the author offering a thank-you to readers? Manners cost nothing.
So we get the unfolding, clunky school saga of nerdy library monitor Andrew Shivers, so obviously Bliss himself, and his run-in with bully and swim-team captain Nicholas Bigboy.
We're encouraged to join in panto-style: to cheer 'ruddy hell' whenever his writing impresses, or contribute the story of hurtful putdowns our villain may come out with.
Carter's easy in-character interaction with the audience adds to the dorky likability of his alter ego. After pontificating that the letter 'z' is always a delight on the page, he seems genuinely thrilled when someone shouts out 'Zizzi' at him, the perfect word.
These are interspersed with his comments on the books he's discovered. He quite likes 'Jackie' Rowling, is decidedly unimpressed with Moby Dick and adores the most unlikely of titles.There's a drollness to his prejudices, but the way they are applied in practice shows Carter has written a carefully thought-through script, far beyond Bliss's capabilities.
There's perhaps not an awful lot of depth to the character, but his eager affability, the silly pastiche of bad prose and the more knowing subtext will, as Bliss might write, cause the edges of your lips to be dragged up in the direction of your eyes, making the U-shape of an upside-down umbrella. Smile, in other words.
Review date: 17 Nov 2017
Reviewed by: Steve Bennett
Reviewed at: Pleasance Islington
Recent Reviews
What do you think?