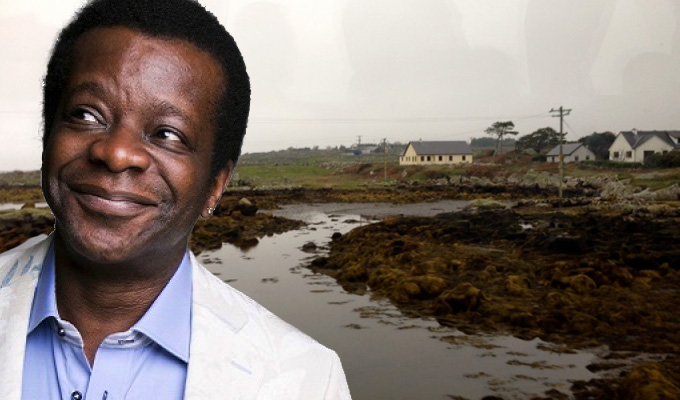 Wild Atlantic Wahey!
For a while, we were heckled by moisture. A fog brewed up from the Atlantic Ocean shrouded the views of the untamed Connemara coastline and cast a pall over what was left.
Yet through the thick mist, the rocky landscape could be glimpsed from the ribbon of a road winding between the grey mirrors of pooled water and ragged inlets. Tightly packed stone walls divide the apparently infertile land into a tortoiseshell pattern of tiny packets, occasionally occupied by the sad, dilapidated skeleton of an abandoned building.
This was the interval entertainment in a comedy show unlike any other. A coach trip through Ireland's Wild Atlantic Way, stopping at bars en route for each comedian's set. A hundred punters split across two vehicles, with stand-ups Steve Bennett and Stephen Ryan in charge of each. You might think 'tour guide', but that might imply knowledge of the landscapes we wended our way through… cheerleading and occasional admin was, in fact, their brief
Not that much rabble-rousing was needed, the atmosphere excitable as we set off from Galway soon after midday, a mood heightened by the cans of cider some had brought along. Cheers went up as we passed remote pubs we thought might be the next stop-off; disappointed 'aahs' as we trundled on past.
However, spirits inevitably flagged as the tour went into its seventh hour. Yes, that is too long, as we returned to the city centre at about 6.45pm. But it's probably the only complaint about a fine trip that successfully combined sightseeing and stand-up.
At our first stop-off, an oceanfront restaurant in the small settlement of Furbo, Phil Jupitus regaled us with a puffin based scenario, an extended fantastical sequence set in the Shetlands that felt as if it was born of improv as he imagines uses for every morsel of the seabird. But the subject seems apposite, given the dramatic coastal landscape in the window behind him.
Next stop, the traditional Irish pub An Cisitn, darkened and cosy and heavily bedecked in Halloween regalia, where Fred Cooke entertained with upbeat stand-up and jaunty musical accompaniment.
Westward we continued, down narrow roads (there was one incident with a deadlocked impasse, which was eventually resolved when the car driver realised she couldn't really take on two coaches). We cruised past isolated houses, the occasional horse, and the sort of rugged, windswept scenery that inspires poets and artists.
Finally, we arrive at Lettermore, population 528, an island where the urbane Stephen K Amos is hilarious astonished to find himself so far away from his comfort zone. And, he presumes, the comfort zones of locals unused to seeing a black man walk the streets. Or 'street'. Or maybe even 'track'.
His feigned indignity interspersed with stories from his travels to less isolated parts of the world went down a storm, if that's not an inappropriate metaphor for an area so lashed by the weather. It'd have been worth the trip even if there hadn't been such a picturesque route to get there.
Back towards home, and a final stop at a less distinctive bar on the outskirts of Galway – perhaps a different waypoint in the country would have been a better choice – where Joe Rooney struggled with the now-fading energy of the audience/tour group.
It was a slight anticlimax, but the trip – the first time the Vodafone Comedy Carnival has run such a thing - was memorable one, both for the views and for the craic. It surely won't be the last time organisers run such a trip.
Review date: 29 Oct 2017
Reviewed by:
Recent Reviews
What do you think?