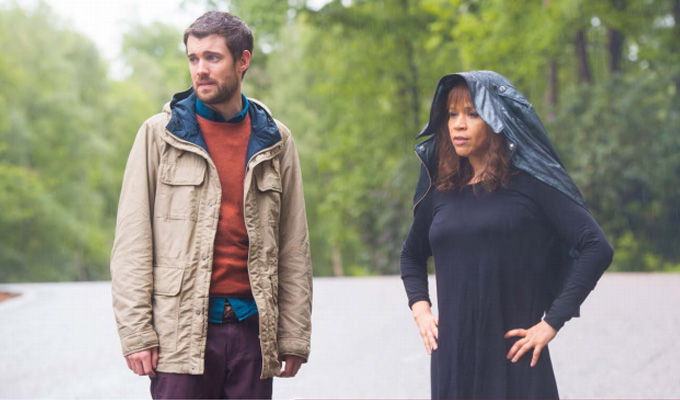 Bounty Hunters
Another day, another Jack Whitehall review. Following the release of his stand-up special At Large on Netflix yesterday comes the launch of his new comedy-thriller Bounty Hunters.
It's co-written with Freddy Syborn, with whom he co-created Bad Education, but this is a different kettle of fish, which puts the drama on a par with the comedy.
In fact, as we kick off the laughs are very much on the back burner, as we're in the mean streets of New York with Rosie Perez's bounty hunter Nina on the trail of some drug dealers, and it all goes very Pulp Fiction.
Jump cut, with fine comic juxtaposition, to Whitehall's character Barnaby parking his hilariously tiny G-WIz car under the mocking gaze of bystanders. The sudden contrast is one of the few straight-up jokes as the script busies itself setting up premise and character.
Barnaby's dad Nigel (Robert Lindsay), an antiques dealer, has wound up indisposed in hospital. So Barnaby, fighting family accusations that his bookish ways make him useless in the real work, temporarily takes over the business.. and promptly spends £50,000 on what turns out to a be a blood antiquity looted from Syria.
And to resolve the situation, who better to help than Nina, who Barnaby's sister encountered in that first, bloody scene and who now just happens to be on the run from the US drug cartel she busted and in need of a place to lie low.
Clearly this is all establishing a classic culture-clash dynamic between posh, socially isolated Barnaby and the brasher, streetwise Nina and her emotionally exuberant family, glimpsed in passing
In this first episode here is sometimes an inbalance between the comedy and the thrills. Both depend on shock, but sometimes they compromise each other.
The blend is certainly less smooth that the tonally similar The Wrong Mans with James Corden and Mathew Baynton – although in moments it works excellently: Barnaby contaminating a crime scene the pair of them have just created is very funny indeed. Charity Wakefield, as Barnaby's peculiar sister Leah, is promising comic foil, too.
Yet few gags really zing, and the tension only occasionally grips. However Bounty Hunters certainly works on the level of glossy popcorn TV, and will do no harm in further establishing Whitehall as a very watchable character actor. The obvious transatlantic appeal will likely help his career too.
Some of the issues are surely down to the establishing work the first episode has to do. So it's a good sign that after it airs you'll want to see what happens in part two.On that score, at least, job done.
• Bounty Hunters is on Sky One at 10pm tonight
Review date: 25 Oct 2017
Reviewed by:
Recent Reviews
What do you think?