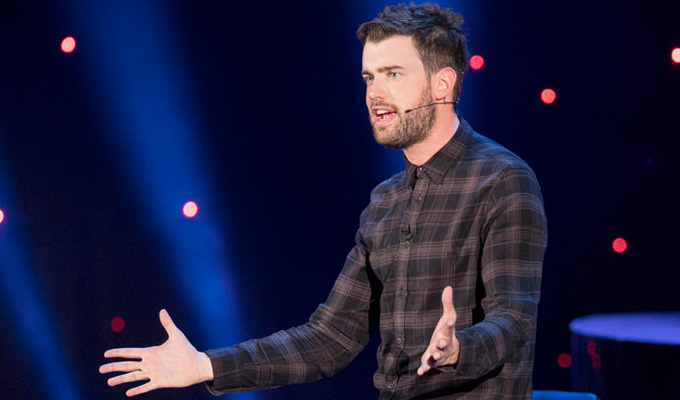 Jack Whitehall At Large
After the emotional rollercoaster of last week's Netflix stand-up special, in which Patton Oswalt dealt with the grief of losing his wife, comes a far more straightforwardly fun affair from Jack Whitehall. It even ends with him in the sort of ridiculous costume that has become a dignity-shredding trademark for his live shows.
At Large is Whitehall's first special taped for the streaming giant, and the subjects he chooses should surely resonate with a global audiences already accustomed to the archetype of the posh but slightly inept Englishman struggling with real emotions.
While Whitehall jokes that stories of bantering with Elton John while meeting Prince Harry at a black tie bash 'are so relatable', if there's one thing Americans would relish it's an anecdote from his brush with royalty. (And Harry was there too).
The American card is played again when he talks about being forced to stay a clearly inappropriate Disneyland hotel for two months while working in California – any underpinning misery fuelling a barrage of rock-solid gags. And while anything to do with air travel is so relatable it's usually cited as hack, Whitehall's panicky blethering at the security desk like a coked-up Hugh Grant is a very funny image.
He plays up the nervous bumbling throughout his exaggerated, animated delivery, too. The illusion of slip-ups may be well-practised devices, but he makes them convincing, entirely in keeping with his excitable personality.
For despite the concessions to a global market, Whitehall's self-deprecating, relentlessly apologetic shtick is 100 per cent British.
Even so, his rigidness pales compared to his father Michael, depicted here as the sort of chap who goes into McDonald's and asks for the wine list. He also gets attribution for giving the sort of brutally honest appraisal of the Hollywood system that you'd expect from a veteran agent. Cut to Whitehall Sr sitting in the audience of the Hammersmith Apollo, displaying his best resting bitch face.
Jack's perpetually playing the beta male, as when on a stag weekend in Amsterdam and getting caught in the act after reluctantly toking on the 'weedypuff' under peer pressure from the 'lads', Rupert and Digby. (No mention of the time seven long years ago he was genuinely exposed by the tabloids for snorting coke, that would spoil the image). And he has visual proof of his Dutch transgression, one of several times he uses the giant screen for good effect, giving credibility to his tales and adding on an extra punchline or two.
Whitehall is never more on the back foot than when comparing his career with that of his old classmate Robert Pattinson – the long-term nemesis of his stand-up tales. He'd hoped to put that jealousy behind him… but then he was asked to audition for a role opposite the Twilight star – and the old competitiveness reared its head again.
This fits one theme of this special: his thwarted attempts to break America that amounted to little more than being left on the Cutting Room floor after voicing a troll in Frozen. ('America remains very much intact', he notes wryly)
But with both this special and Travels With My Father, on Netflix, and the clear transatlantic appeal of his new Sky comedy Bounty Hunters, maybe that longed-for Stateside success won't elude him for long.
• Jack Whitehall At Large was released on Netflix today. Subscribers can watch it here.
Review date: 24 Oct 2017
Reviewed by: Steve Bennett
Recent Reviews
What do you think?