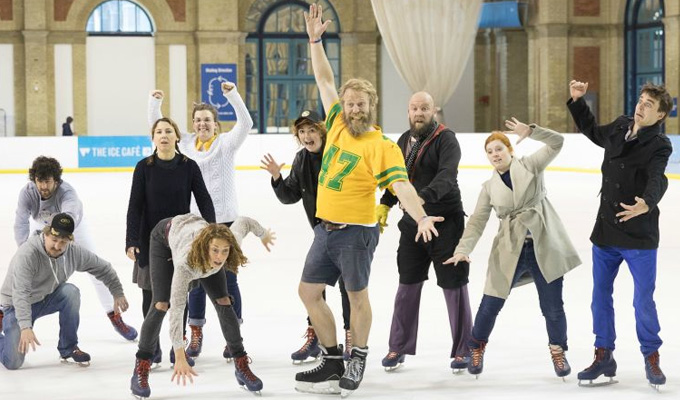 Tony Law and Friends in the Battle For Icetopia
There's a certain pleasure in finding out that a comedian has a hidden talent.
I remember watching Dan Antopolski stop mid-set at a club in Streatham about 10 years ago, and knock out a genuinely impressive jazz tune on a piano that was onstage. No gags, just a bit of impromptu razzle-dazzle. Tony Law, it turns out, is a decent ice-skater. If you're Canadian, I'm guessing it becomes second nature.
It's quite possible that the fact Tony Law can skate is the entire reason why this show came about. The Battle For Icetopia is the latest production from those irrepressible loons the Weirdos collective. It's a Disney-esque tale set in the future where ice has gripped the earth and Tony is the finest skater around.
Then Stalin – damn him – comes along to try and get rid of all the ice, so he can grow trees again and prop up his evil printing enterprise. Tony is the only thing standing in his way, and hey presto you have a two-hour comedy show on ice.
Along the way we get to boo a cheesegrater, hear Law singing as a joyful little plane, and witness a skate-off between him and Stalin to decide the fate of Icetopia.
As with most Weirdos productions, it's flabby but fun. The Alexander Palace ice rink proves quite a handy space for a big show, accommodating a range of different locations with just the flip of some of the colourful 'scenery' props.
With that comes an acoustic problem, though. Ice rinks are so echoey you'd think they'd been lab-developed to be the antithesis of a good comedy venue, and having to strain to hear what's being said all the time is quite an exhausting endeavour. And with the audience so far from the action, too, energy is almost impossible to build up, and prevents the kind of panto-ish back-and-forth that they were probably aiming for.
But with the cast throwing themselves into the show and plenty of goodwill in the audience, the show does, on balance, work. Law revels in his role as the cocky jock whose superpower (ice skating) is temporarily hobbled by 'the fear'. There are stand-out performances too from Ali Brice as Stalin and Elf Lyons as Law's old maths teacher.
Brice brought an inexplicably comic sense to his baddie role, to the point where you were almost laughing every time he stuttered onto the rink. Lyons's script and delivery was perfectly pitched for the venue, and her natural comic sense lifted all the scenes she was in.
As you can imagine, not all the comics in the ensemble cast can actually skate, which brings some slapstick to proceedings (full marks to Ben Target, playing a small business lawyer, for styling out one particularly ugly fall). This is all hammed up a bit, I'm sure, but who can blame them?
Most of the laughs in fact come from the sense that they're all doing their best to put on this show in trying circumstances (i.e. they can't skate), while a few hired-in proper skaters run rings around them. It wasn't out-and-out chaos, though, nor was it a tightly choreographed cock-up à la The Play That Goes Wrong. Instead it was somewhere inbetween, and may have been funnier if they'd committed to one team.
There's also a fine line between anarchy and indulgence, and Icetopia would benefit from some snappy editing to keep people on board, without losing of its anarchic edge. Thinking about shows like Bottom or Vic and Bob's various creations, one of the reasons they worked so well is they kept things moving.
Still, it's a big, bold and fun show, and a step into territory that most comedians would literally fear to tread. It's reassuring to know that a pulse still beats in the live comedy world away from the weekly treadmill of the clubs.
The Weirdos have always performed that function, and their invention and ambition has to be saluted. With The Battle For Icetopia, despite its flaws, they can chalk up another success.
Review date: 15 Oct 2017
Reviewed by: Paul Fleckney
Reviewed at: Alexandra Palace Ice Rink
Recent Reviews
What do you think?