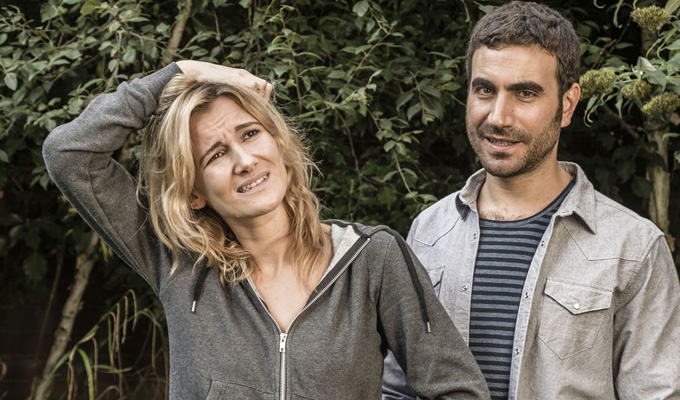 The Pact
Note: This review is from 2017
There are probably funnier shows in this year's batch of BBC comedy pilots, but few as watchable as this.
A huge amount of that is down to the hugely charismatic leads, Sarah Solemani and Brett Goldstein, to which you can add an intriguing storyline from writers James Britton and Rick Laxton that doesn't sit quite where you'd expect. And finally, there's that mysterious alchemy of production, directing and editing that just makes it all feel right.
The premise is that when they were teenagers Amy and Andy made a pact that if they were still single when they were 35, they would marry each other. It's the sort of promise that besotted teenage boys in the 'friend zone' cling to.
Fast forward to now and they have both hit that magic number. And, wouldn't you know it, their paths cross again.
Contrary to what you might expect, Andy is now the sorted one, with a partner, a son, and a cool job as a record producer, while Amy is the arrested development mess: living a life of heavy drinking and one-night stands, still in a flat-share and working behind a bar.
Scenes of Amy's debauchery come with a shame so acute you can almost feel it through the screen. But Andy doesn't know any of this, his heart is aflutter at the renewed acquaintance of a girl he still fancies after all these years. (Of course he does, it's Sarah Solemani)
And his life isn't quite the bed of roses it first seems as he's not entirely committed to his relationship with Kelly – a fine performance from Lolly Adefope, putting up a breezy cover over her intensity and insecurity. He's pressured into accepting a gloriously tacky wedding proposal from her then carries a 'what the hell have I done' expression on his face for the rest of the episode.
Meanwhile, Amy endures a couple of comically embarrassing, but all-too-credible encounters that provide cringe, but laughs too.
There's a little too much set-up in this pilot, as well as a totally redundant scene showing off Ade Adepitan's brilliance at wheelchair basketball but with little other bearing on things.
But the show is working towards a tantalising idea, and a comedy-drama that's less like the neat romcoms of Hollywood and more like complicated real life. And that's even before the bombshell final scene that would have you instantly reaching for the 'play next episode' button if this were a box set, not a one-off pilot.
The Pact is, then, a strong offering, of a similar tone to Channel 4's Catastrophe – and that's pretty cool company to be in.
• The Pact is on BBC Two at 10pm tonight.
Review date: 27 Sep 2017
Reviewed by:
Recent Reviews
What do you think?