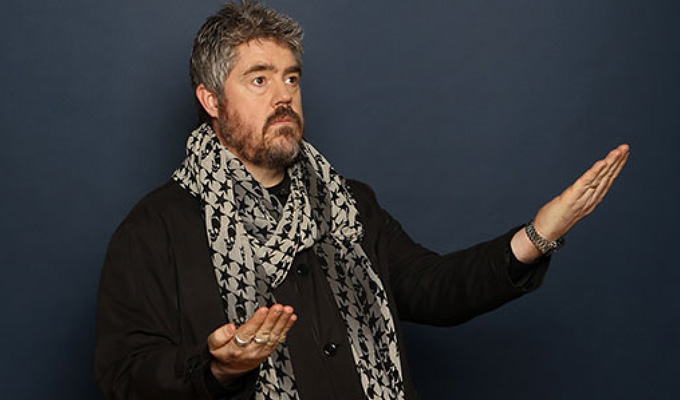 Phill Jupitus: Juplicity
Note: This review is from 2017
You can take this both ways, but Phill Jupitus makes a little go a long way.
His Juplicity tour is a chance for him to stretch his storytelling legs, away from the instant quips demanded of all those panel shows. Here, with his audience, he can wring a good ten minutes about something as simple as the guilty pleasure of ordering chips, cheese and curry sauce from the local chippy in Edinburgh, where he now lives.
The premise of gluttonous post-booze binging and morning-after shame is nothing new, and the exaggeration of the industrial-sized portions which gives the jokes is a straightforward device, but very thoroughly applied. And Jupitus has an absorbing, engaging way of stringing us along, just enjoying his silly fantasy.
Likewise, he makes a great deal of the graduation ceremony where he, along with Mark Steel, was made a doctor of arts at Kent University in Canterbury. Despite the investiture being in the grandiose settings of the city's cathedral, he tried to make it into a stand-up gig, cracking jokes which fell on deaf ears.
For dramatic effect he plays up the sense of occasion – an oik like him in such auspicious surroundings – as well as the fact he's an avowed atheist trespassing on hallowed ground. The outsider feeling is amplified the perceived snubs in the introduction he was given, a rundown of his biography with personal facts that seem stark out of context, and a dismissal his pre-Buzzcocks days as 'riding on Billy Bragg's coat-tales'.
He's certainly got a story or two about being on the road with the activist singer and especially his legendary manager Peter Jenner, recalling the time he sweet-talked the cops when they were caught speeding in Scotland. Again credibility is stretched, and the pay-off not a killer; yet again we enjoy Jupitus getting caught up in the fancy.
Such extended stories come in the second half. In the first, warm-up comes courtesy of Porky The Poet – who you might mistake for Jupitus in Double Denim and a hat, contrasted with the epauleted woollen coat he wears for part two.
It was with this persona that he started in comedy, and he tells in a verse of those early days, when the excitement of opening for Madness was swiftly replaced by the harsh reality that no one wanted to hear comic poetry before Camden's finest ska-influenced seven-piece.
He has a penchant for haikus, too. Jupitus may insist that as a working-class bloke he's 'very straightforward… not a Stewart Lee/Simon Munnery sort of act', but he's not above showing off some of his book-learning, name-checking ancient haiku masters as well as the likes of Erwin Schrödinger.
Jupitus offers something of a one-man festival with his stand-up, poetry and even song. For part two opens with a great parody of Coldplay; an easy target, maybe, but hit square-on. If this is an indication of his talents, more musical comedy would be welcome - which isn't a phrase you hear every day. Polymath Jupitus is also a dab hand, or voice, at impersonations, an excitable Sandi Toksvig, an entirely gratuitous Ronnie Corbett, and the Bob Hoskins he conjures in his mind when it comes to defending his daughter's honour.
Such moments add a bit of fizz to what's otherwise a relaxed, clubbable hour, the tone set by the very set-up of the stage. We file in while he's in a dressing room that's been set out under the lights: a sofa facing away from the audience, where he can read his comics and play his tunes – a fine selection of Atlantic soul on offer tonight. And in the interval he continues to play host, sharing out Tunnock's finest confectionaries and chatting with anyone who doesn't flee to the bar.
That really sums up the atmosphere, not so much about the big laughs (although there are a handful), but instead a most hospitable evening of good-natured craic, affable anecdote and a few poetic party-pieces.
• Phill Jupitus is on tour until December. Dates.
Review date: 23 Sep 2017
Reviewed by: Steve Bennett
Reviewed at: Andover The Lights
Recent Reviews
What do you think?