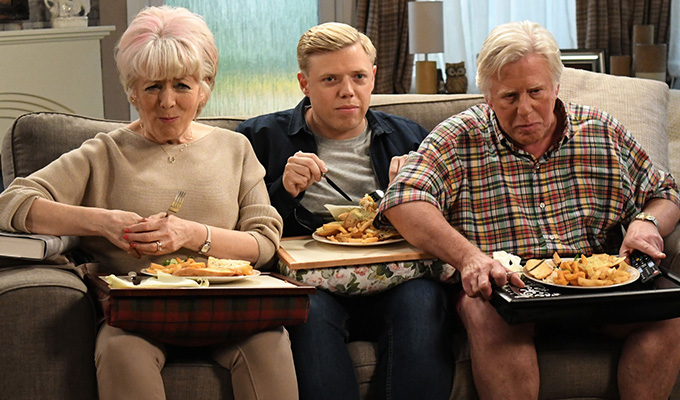 Static with Rob Beckett
Someone at the BBC has clearly identified Rob Beckett as The Next Big Thing, showering him with big primetime entertainment shows from later this year. But he's also playing the everyman in this sitcom pilot, the last in the current batch of Comedy Showcases, which he also penned with seasoned comedy writer Shaun Pye.
Static is a quite straightforward fish-out-of water affair. Rob's character – no real stretch as a chummy twentysomething Londoner – jacks in his job to move in with his parents, played by Phil Davis and Alison Steadman, who are now living in a caravan park in Margate.
Our fish isn't that far out of the water, though, as Rob's character isn't totally alien to the situation he finds himself in; it's not as if he's suddenly playing a posho in this working-class world, but his new environment just doesn't have quite as much going for it as the vibrant capital. Even the static caravan is a palace compared to Alan Partridge's temporary digs, despite Rob complaining 'The Borrowers would be cramped in here.'
So Static is a relatively unambitious premise – a reminder that while mainstream drama like Rellik, which also launched on BBC One this week, can have reverse chronology, ambiguous characters and bold script, mainstream comedy isn't allowed to be so daring.
Despite passing mentions of Love Island and Bake Off (which are likely to feel old fast), the script already seems 30 years out of date, flat with obvious jokes. But the studio audience lap it up, finding even set-up lines absolutely hilarious, even when there's nothing funny about them, like mum Cath simply telling Rob 'we've moved'. This can make the laugh track seem intrusive, since it serves to emphasises how little you might be laughing at home. Does the ancient dad joke 'How does Mr Whippy take a shit?' really deserve the applause break the studio audience gives it?
Yet the show is redeemed, to an extent, are the performances. Beckett's not the greatest actor, but he's certainly passable in this role and just as cheerily likeable as he is as a stand-up. And Davis positively shines as his dad Gal, thanks to winning touch of insanity and a brazen disregard for what people think of him now he's retired. And Davis certainly bears a strong resemblance to his screen son.
There are a few bits of successful physical comedy, too, with Rob literally being elbowed out of his own dinner, plus a winning bit of oddness as dad starts inhaling strangely when eating ham, a scene that's funny despite being contrived.
The social hub is the caravan park's bar, where Rob finds a kindred spirit in Natasia Demetriou's barmaid Jen taking the mickey out of the older clientele. Meanwhile bar manager, played by Craig Parkinson, deludedly thinking himself quite the entertainer, hosts a talent show for the residents. It's a pale imitation of Phoenix Nights that leads to a pale imitation of Gavin & Stacey's Islands In The Stream scene as Gal and Cath sing a Motown duet.
In the end, the personalities win over the script's shortcomings and Static settles into the bland but likeable. Is that enough? Or will Static be going nowhere?
• Static is on BBC One at 10.40pm tonight.
Review date: 15 Sep 2017
Reviewed by:
What do you think?