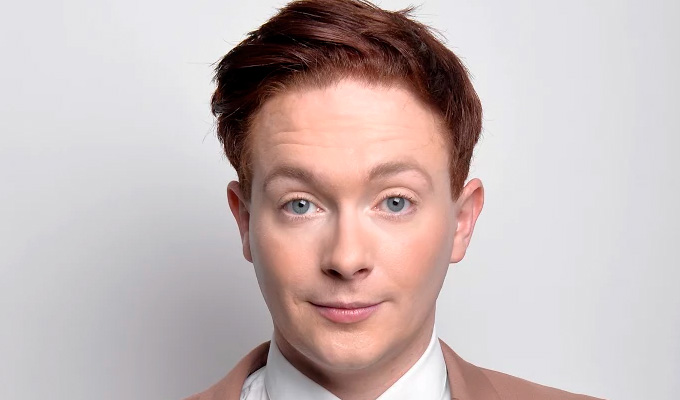 Stephen Bailey: Can't Think Straight
Note: This review is from 2017
Stephen Bailey is proudly 'council estate', growing up amid brassy, gossipy, strong working-class women – and all those character traits have certainly rubbed off on him.
But he never even thought of himself as having what might traditionally be classed as feminine properties until relatively late in life and still isn't sure about such gender or sexuality based labels such as 'straight-acting' gays or 'camp'.
Parts of his personality might fit that latter adjective – after all, he's an outrageous flirt with the straight men in the audience, has a stinging line in waspish put-downs, and is not above the odd innuendo. But then he's not fey and he boasts a black belt in Tae Kwon-Do. Contradictory?
Not really, he says, he's not a gay stereotype, just 'Stephen' and most people in his life have always treated him that way, from the lads at school to his no-nonsense blokes' bloke of a dad, which again might not be what the archetype suggests.
Such points means Can't Think Straight gets involved in a conversation about gendered identities – but Bailey is keen to ensure any such discussion is in the background, secondary to outlandish stories.
Another point he makes is a call for more openness about sex, although that could scupper his act, which depends on a certain shock value, given reticence of polite society to talk about the subject. He draws visceral laughs when he speaks of how sex peels away the facade of suave civility we may all put up… a point he makes by gurning some hideous sex faces.
For all this, the stories in Can't Think Straight are defined by class more than sexuality, with Bailey hailing the Northern working-class woman's love of a bargain and regaling us with stories of all-inclusive holidays on the Costas. His time working in Sainsbury's provides probably the most potent story, with its cast of middle-aged (and beyond) women vividly realised.
Some of these anecdotes are pretty light, but Bailey is an absolute crowdpleaser, getting the room howling with laughter. Much of this is down to his Free and Easy badinage – he's a natural compere who builds an instant rapport; his love of being in the spotlight spreading through the room.
Purists might find him more personality than content – and he's certainly picking up more and more TV work that exploits his frank, warm and larger-than-life character more than any gag-writing skills. But those endearing personality traits are magnified tenfold in a packed and sweaty Fringe venue, and intimacy that matches the tenor of his material.
Review date: 28 Aug 2017
Reviewed by: Steve Bennett
Recent Reviews
What do you think?