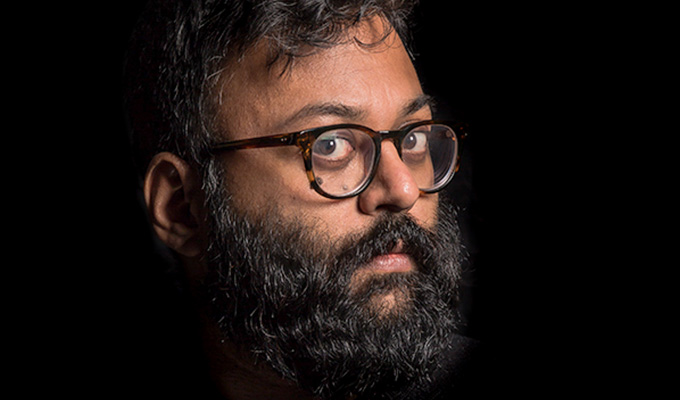 Sunil Patel: Titan
Note: This review is from 2017
It seems as if Sunil Patel flattered to deceive with his debut last year, earning the benefit of the doubt for an enigmatic-seeming mind behind his social awkwardness and self-absorption.
Yet perhaps there was nothing really there, as there's no depth whatsoever to his follow-up, a meandering set of unfinished routines seeking a focus.
Ranking his life alongside Jay-Z's, the rapper's in-and-out retirement compared to the comic's on-and-off relationship with sugar, Patel mock-grandstands his minor achievements, his getting into badminton, soft drugs and a tax-paying bracket not so much the highlights, as the only things he's done with his year.
Although witty on why he's the most famous badminton player in the UK, his feckless indifference starts to grate, his refusal to engage with subtext mere adolescent posturing, while his application of capitalist market forces to childrearing isn't funny enough to justify the affected lack of empathy.
Arrested development can be a potent point of inspiration for comedy. But with Patel it's a tedious lifestyle choice, as he relates how he's always prioritised free time over money, acknowledging that he's now being priced out of friendships - The Fuck Squad group he ironically named when he was 15 having moved on.
But if that's the case, he really should have written some proper routines. Because when he tells you that he's given up of most jobs he's had after three months, it's all too credible.
His dabbles with marijuana have at least afforded him a stoner, conspiracy theorist logic that perhaps could be the way forward for him. Because he's very funny when getting agitated about the dystopian potential of the internet, a rare flash of emotion in an otherwise wry-to-the-point-of-ennui delivery.
Invariably defining himself by what he isn't rather than what he is, even the badminton has cast him adrift as his playing partners have abandoned him to have children. The thought of finding new people to play with only seems to have occurred belatedly, as he indulges in the most blatant bit of padding I can recall at the festival.
Producing a couple of rackets and a net that he asks the audience to hold, he starts a rally with an audience member at the back of the room. And he's absolutely shit, with people cowering in the attic room lest they be hit and the net rolled up almost as quickly as it was produced.
Without that much derided subtext, it's an utterly pointless charade. By all means take some time out to find out what you want to do with your life. But don't inflict the tiresome deliberation process on an audience and call it a show.
Review date: 27 Aug 2017
Reviewed by: Jay Richardson
Recent Reviews
What do you think?