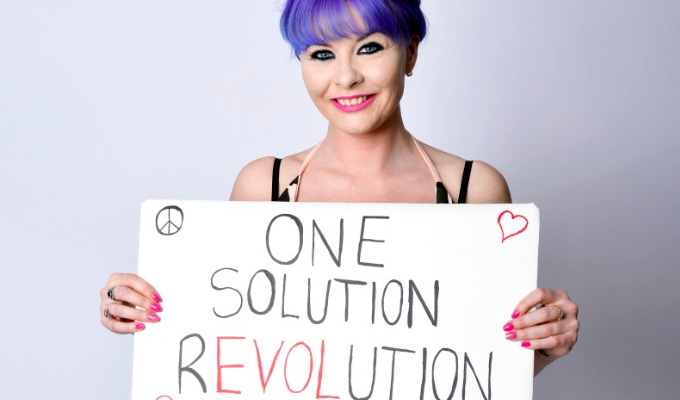 Samantha Pressdee: Back 2 Basics
Note: This review is from 2017
A lot of comedians talk the talk when it comes to demanding social change, but Samantha Pressdee walks the walk.
She's a Bona Fide 'badass' anarcho-feminist activist who's been on the frontline of the fight for social housing, including being one of the squatters on the Sweets Way estate in North London, trying to stop its demolition for largely private homes. She believes it's part of a 'social cleansing' to eradicate poor people from London.
Other issues swirl around this story, too, from mental health – an area in which she says she's been stigmatised for being bipolar – to her father's dementia and to the way a threatened benefits system gave her a level of security everyone is entitled to. Pressdee says this show is a call for a universal income – a guaranteed payment to every citizen no matter what their circumstance, no matter what work they do – but, in fact, that's a distant second to the housing issue.
It is a topic about which she feels a raw passion, welling up with anger and upset when she tells the forceful eviction of the last tenant from Sweets Way. Her emotions do sometimes stand in the way of the comedy. Here it's surely justified, but even in less highly-charged incidents, her story is often more interesting and polemical than funny, as she offers an insight into the world of direct activists who fight hardest as they've nothing to lose.
Her involvement in that world brought her into Russell Brand's orbit – giving her a USP for being one of the few women who didn't sleep with him. He visited the Sweets Way protest, and she still drives the 'Brandwagon' – a campaign van branded with The Trews, Brand's online programme.
However, the most significant figure in this story is not Brand, but Tom Palmer, who also went by the name of 'Agent Kingfisher' – a serial protester who has been active from Occupy, to Sweets Way, to pissing on the door of MI5, and who obviously had a huge impact on Pressdee.
Again she becomes overwhelmed with raw feelings when she describes what happens to him, giving the show a powerful ending and serving as a heartfelt tribute to the kindred spirit who inspired her.
For all her 'badass' aspirations, Pressdee is actually just an ordinary working-class woman from the Black Country, fighting for what she believes, but also an engaging and likeable storyteller. The tale told could do with more focus and purpose – a device evoking Maslow's hierarchy of needs seems to belong in a lecture, not this show. And yes, more laughs, although the hour is not bereft of them.
But in Back 2 Basics, Pressdee offers a fascinating insight into a world many people only glimpse, and may just fire up your social conscience too.
Review date: 26 Aug 2017
Reviewed by: Steve Bennett
Recent Reviews
What do you think?