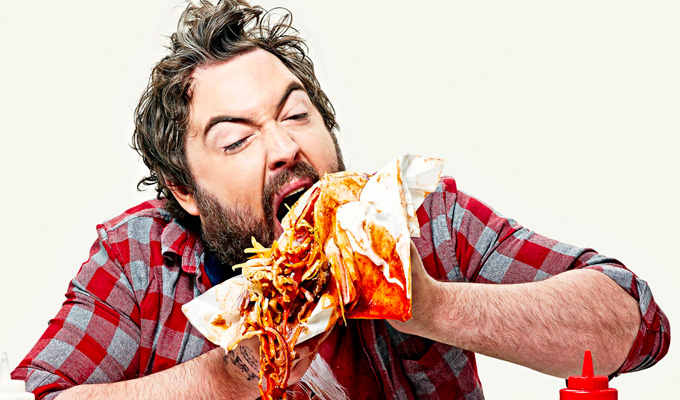 Eat Your Heart Out With Nick Helm
Dave's commissioning policy has pretty much always been to find good comedians and allow them to indulge their passion, whether it's video games, dicking about with PowerPoint or freewheeling around the country on a motorbike.
It's an obvious way of making programmes, but one which other broadcasters have been surprisingly reluctant to follow. Now Nick Helm has become the latest comic who gets to make a show about his favourite topic, and this time, it's food.
Eat Your Heart Out involves a slightly unusual mix of ingredients itself. First there's the straightforward travelogue element, where Helm meets chefs in their kitchens and sees how they prepare their dishes – more Food Network than Dave, this bit.
Then he gets to chat with guests over the meal, perhaps inspired by The Trip, but more akin to Comedians In Cars Getting Coffee, but without the cars. In the opening episode, set in Helm's home neighbourhood of Islington, North London, he meets one of his comedy heroes, Bob Mortimer, who throws the host curveballs by asking about his favourite cowboy or how often he takes a bath.
Paul Whitehouse, who lives nearby, also pops in, prompting Mortimer to faux-boast about hanging out with a new generation of comics, joking: 'I feel like Arthur Askey these days – someone your mum and dad would watch.' Which is surely to downplay his appeal.
The third ingredient is a more fictionalised one, in which we see Helm's girlfriend storming out of their improbably swanky house. The 'we need to talk' text is followed, eventually, by a call dumping him, setting up the premise for the full 16-part series in which Helm tries to see if food can mend a broken heart.
Never mind the possibly unhealthy psychological impact of seeking happiness in calories, it's a set-up that will explain why Helm travels to Paris, Berlin – even Peckham – on his culinary quest. And not just to nice restaurants, but hidden bars, street eats and food trucks.
The 'Great British break-up' plot allows Helm to play a version of the adrift sad sack that viewers of Uncle will probably identify with (rather than Helms' supercharged, overcompensating stage alter-ego, which would be intensely unwatchable on the small screen) and give some narrative to the mouthwatering shorts of food being seared, drizzled or tossed.
On the strength of episode one, Eat Your Heart Out is more comfortably a food show, with the interview sections and storyline as side dishes. It's engaging, without being compelling, but surely able to stand the multiple repeats a Dave programme needs. For if there's one thing TV has shown us, viewers can't get enough of cookery shows.
• Eat Your Heart Out With Nick Helm starts on Dave at 8pm tonight with a double bill. Episode one is already available on demand here.
Review date: 24 Aug 2017
Reviewed by:
Recent Reviews
What do you think?