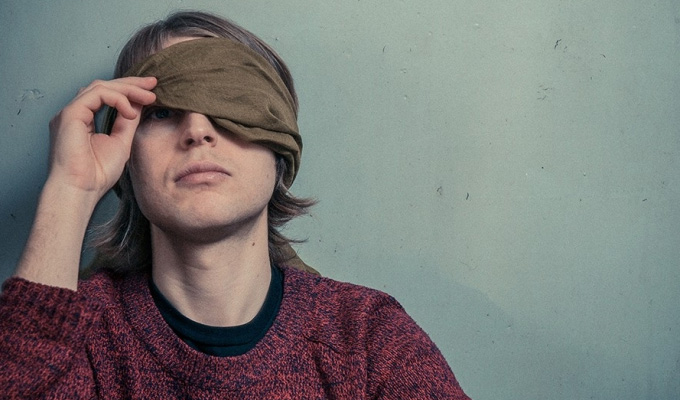 Tom Skelton: Blind Man's Bluff
This is the only show I've ever been in where a latecomer with a guide dog was booed, albeit all in good fun.
With his latest hour Tom Skelton has crafted an appealing blend of personal narrative, sketchy character comedy and a little bit of audience-interactive improv. The comic is legally registered as blind, since eight years ago he developed Leber's Hereditary Optic Neuropathy, a genetic condition which left him with only five per cent of his vision, his sight effectively restricted to the peripheral.
The moment Skelton first realised his fate is rendered in dramatic terms and there's an effective, bleakly introspective audio montage of the questions and statements everyone inundated him with in the aftermath. But these are atypical sequences in an hour that's predominantly light and which takes every opportunity to get silly. From the start, he encourages the audience to laugh at his inept costume changes and the more close-to-the-knuckle disability jokes.
Although he appears as himself, most of the narrative is conveyed by Sketon putting on a white coat as his eye specialist, Dr Rylly, a warm, patient, if occasionally insensitive physician who serves as an educator to both the comedian's younger self and the audience. His positive spin on the fulfilled life Skelton can still enjoy also serves as a framing device for the comic to play some famous blind figures from history.
An excuse for a lot of wig play and general mugging, these include the flowing-locked Sampson, bewailing his fate to the strains of Tom Jones; Louis Braille accompanied in song by his famous Belgian songwriter brother; and perhaps the best, Béla the Blind, 12th century ruler of Hungary, who inspires a neat little satirical stab at the country's current authoritarian leader, Viktor Orbán, no less funny for its obscurity and inconsequence.
Honestly acknowledging the naffness of some of the show's puns, the doctor's meta-comment asides on its progress are amusing and in keeping with his character. Meanwhile Skelton's seasoned abilities as an improviser allow him to work aspects of his volunteers' lives into the script, people's willingness to participate a testimony to their desire to see where his story goes next. All the while, he offers a neat, audio description explanation into a microphone for the blind in the room whenever he fluffs a bit of physical comedy.
Besides all this tomfoolery, there are some genuinely sharp lines, a running refrain about Tory cuts to healthcare matched by a cruelly sharp gag about famous blind politicians in the Labour party. Leaning out into the crowd with a self-aware smirk at one point, Skelton suggests his aim 'inform, educate and entertain', which he's certainly done. I for one, had no appreciation of the varied benefits bestowed by his disability card. Or the dicey situations that his condition can prompt in crowded bars.
Funny, varied and inherently cheesy, but also full of candid vulnerability, there's a lovely and deserved set-piece at the end of this show when Skelton thanks his doctor for his care, a feelgood moment that sends you back out into the world with a spring in your step.
Review date: 24 Aug 2017
Reviewed by: Jay Richardson
Recent Reviews
What do you think?