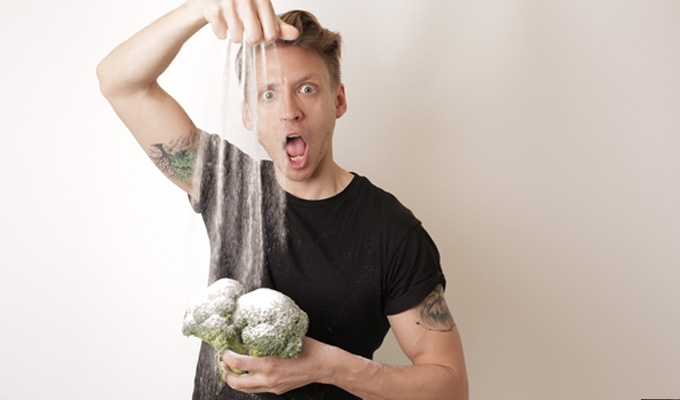 Alistair Williams: Food
It's a tall order to deliver an hour of gimmick-free stand-up on a single topic, with no – or almost no – deviation. Yet Alistair Williams demonstrates an assuredness in pulling this off that matches his measured command of the stage.
On the face of it, here's nothing particularly exciting about the material or his take on the world, but he's a confident, clubbable chap whose punchlines build up like cholesterol in a fat guy's arteries – the cumulative effect having more impact than any single contribution.
He starts from guilty pleasures: Doritos, salted caramel, pizza – and just when you begin to wonder how he keeps in such good shape with such a bad diet, he switches on to his healthy eating agenda, acknowledging treats as OK only in moderation.
What we eat is, of course, a subject of endless fascination. There are TV channels dedicated to food and newspapers love listing which items which are good for you and bad. So there's enough, well, food for thought here.
Williams warns of sugar – as addictive as cocaine – and nudges his audience towards natural foods over processed ones. He has, understandably, got quite a lot to say on the subject of McDonald's, while on the other end of the spectrum, vegans like his girlfriend are not excluded.
But while he's spreading the sort of preventative message that could secure him some NHS funding, Williams avoids being too preachy, and keeps the jokes coming at a fair lick. Aptly enough, there's not much fat in his set, and as a former advertising executive, he knows how to package and sell his material. As well as knowing all the food marketeers' underhand tricks.
Good-looking, personable and slightly roguish, Williams made the final of this year's Amused Moose competition, which prides 'star quality' over all else. And you can understand why: this is mainstream material, engagingly told. And while the message he spreads and the opinions he holds are hardly original, he puts just enough comic seasoning in to avoid making any of it bland.
Review date: 24 Aug 2017
Reviewed by: Steve Bennett
Recent Reviews
What do you think?