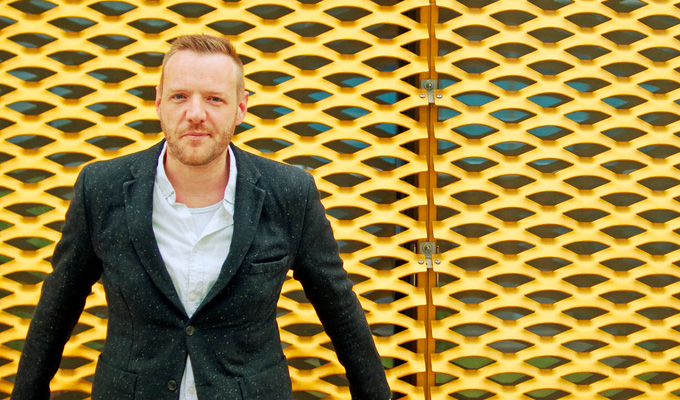 Scott Agnew: Spunk on Our Lady's Face
Note: This review is from 2017
No one has anecdotes quite like Scott Agnew. His stories of bizarre, drug-fuelled sexual excess make Russell Brand look like In The Night Garden.
The most conventional of the tales in this show has him going on the pull after a gig at Leeds Jongleurs he was drinking to forget. While wearing a Stormtrooper's outfit.
This pre-amble, about how he became afflicted with 'blow-job knee' breaks the news as gently as he can that he's gay – though you will soon be in absolutely no doubt of the fact. And if you need things broken gently, a show called Spunk On Our Lady's Face probably isn't for you.
It is another catalogue of the hilariously depraved scrapes he got himself into through a pattern of self-destructive, self-abasing behaviour which have defined his past few Edinburgh shows. He's stopped that now, as being diagnosed HIV positive served as a wake-up call, making him realise he wanted to live.
As he shares his stories from the murkier depths of the gay dating scene for our vicarious pleasure, a recurring question is whether he's acting bravely or stupidly. The 'spunk' of the title refers to 'pluck' he argues, not very convincingly 'Recklessly' would probably cover both possible motivations for his actions, for when he's on the pull, he's like a member of an improv troupe, saying 'yes, and…' to whatever bizarre sexual request is thrown his way.
For a well-established stand-up and compere, Agnew's tone can be a little dry and rough-around-the-edges, as if he's not entirely at ease – at least until he settles into the substance of his stories, which draw us in with the light they thrown on an astonishing underbelly.
Perhaps its that knee injury, but all this told calmly from a stool, like a Dave Allen for the Grindr era. Especially given his routines about how the Catholic Church (who else?) messed him up, with his school's Monsignor piling on the moral guilt for stepping on the Lord's grass.
The issues that upbringing instilled in him came to the fore during a hook-up with a man with religious fetishes, just one encounter in a sex life that has more kinks than a concertina. And it's not all sex, he sings the praises of crystal meth, too, lest you ever think we're in light, breezy territory.
Whether Agnew's former lifestyle is an advert for anything is a moot point. However, he does show the upside of airing dirty stories in public, with a shockingly entertaining and eye-opening show.
Review date: 23 Aug 2017
Reviewed by: Steve Bennett
What do you think?