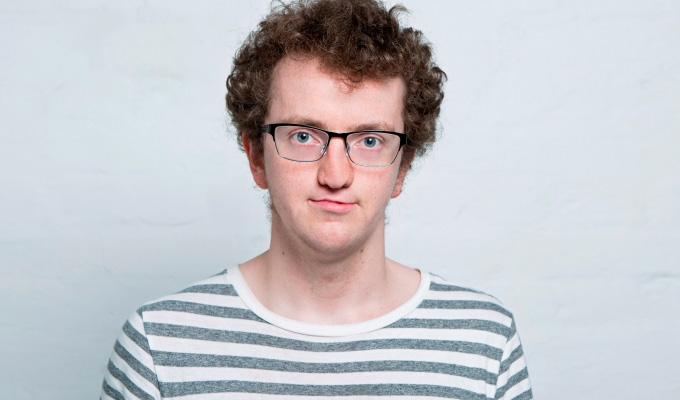 Jonny Pelham: Just Shout Louder
Note: This review is from 2017
Things have picked up for Jonny Pelham in the last 12 months. He's found love, become engaged in politics and become a lot more confident.
The latter is especially prominent. Gone almost completely is the ultra-low-status shtick that earned him the best newcomer nod in 2015. Understandably, he doesn't want his stand-up career to be defined by him solely speaking about what a flop he is. And now he's an assured presence on stage.
Still there is plenty of self-deprecation in the show, even if it's now from a position that he can't believe his luck to have found an attractive girlfriend whom he can't hope to protect in the same way as her kickboxing ex, rather than abject misery about the state of his life. (He also has an unfortunate habit of holding his glasses by their bridge which makes it look like he's making the L for loser sign at himself… but that's subconscious, surely?)
But in moving on, he's also lost a certain sense of focus in his comedy. The political segment, for example, seems especially slight. He likes Jeremy Corbyn and went to a Momentum meeting, but he's not 100 per cent convinced of the cause. That's pretty much all that amounts to.
A segment about teenage boys not believing their luck if they are become a victim of a female paedophile teacher is an obvious premise, and a routine about Pelham's own unwanted teenage erections goes, like his tumescence, nowhere. That's a frequent criticism of a show that generates some good lines, but also a lot of routines that peter out.
The best gags are apropos of nothing else, possibly on loan from his club set. The bitter-sweet mixed blessings of getting a dream come true courtesy of the Make A Wish foundation is dark and funny, as is the routine about the personal guilt Germans who fought in the war must feel. And more on-topic, his musings on Taylor Swift's romantic life – I know, it seems a peculiar topic coming from a rather quiet beta-male comic like Pelham – certainly rings true.
'A nice bit of structure there, we all saw it,' he says at the end although the fact he has to end by saying 'that's the end of my show' suggests it wasn't the natural climax to building narrative that he might have hoped for. And running for just 45 minutes, including a couple of brief recaps from his earlier shows, this offering seems light.
Pelham might have had a good year personally, but this is not his best artistically. He's proved he can do so much better than this treading-water effort.
Review date: 23 Aug 2017
Reviewed by: Steve Bennett
Recent Reviews
What do you think?