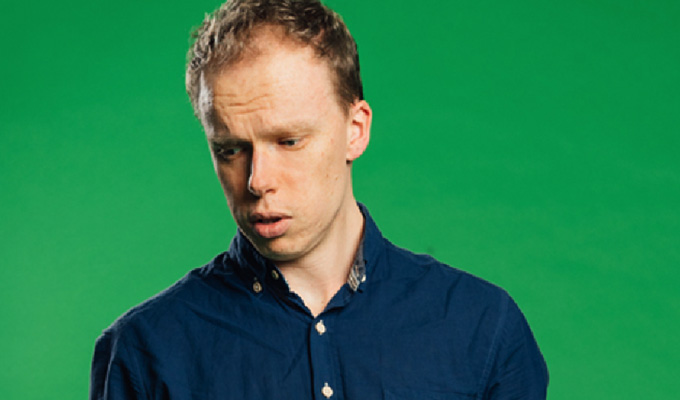 Jordan Brookes: Body of Work
Note: This review is from 2017
If you go and see Jordan Brookes this Fringe, be sure to take lots of rugs… for he'll keep pulling them out from under you.
There's surely not a more inventive show at this festival. From an inspired corruption of the 'Ladies and gentlemen please welcome…' voiceover to the moment he reluctantly leaves the stage, cracking a few final quips, this is a twisty, turny ride full of playful misdirection.
There's a flick of Bob Odenkirk and David Cross's cult classic Mr Show as he begins by doing his vocal warm-ups on stage, then he engineers a brilliant slapdown of an audience member as part of some peculiar banter, and we're still nowhere near starting.
When he gets to the meat of the hour, it turns out to be a savvy and savage parody of those now-clichéd stand-up shows that wring emotional response from their audiences from the death of a relative. In this case, it's Brooke's nan who popped her clogs, and he can't even bring himself to begin to tell it, needing to be placed into his storytelling pose by brute force. And when he finally gets going, he proves that his warning of being 'easily distracted' was no idle disclaimer.
A few metaphors sustain the loosest of stories, from the notion of 'bad thought marbles' that can make their way from the back of your head to your mouth, and of listening to other parts of your body, not just your head or your heart. Turns out Brookes has an erudite arsehole. And any comic who wants 'erudite arsehole' as a show title next year can have it for free.
His fine, peculiar brain doesn't work like anyone else's – which leads to bleak and appallingly inappropriate thoughts, some of which, it turns out, have their roots in something diagnosable, as well as wildly funny ones.
And, wow, look at his physically, fearlessly wild when it needs to be – outrageously extravagant mimes of any number of sex acts come to mind (or rather can't be erased from memory) – or perfectly controlled at others. He has similar control over all aspects of his mesmerising performance: noisy and aggressive one moment, silent and still the next. Brookes has an exceptional command of pace and tone, and keeps that as varied as his writing, ensuring there's never a dull moment.
His intimate unpredictability carries a level of danger – not a terrifying Red Bastard-style risk, but just enough to heighten the reaction to his comic surprises. Meanwhile, audience interactions show he's not wedded to a tight script; he's nimble enough to blend often surreal ad-libs with the main thrust of a show that keeps its audience on their toes, even once it settles into a groove.
Compelling, mercurial, unconventional and smart, Brookes has produced one of the must-see shows of the Fringe.
Review date: 21 Aug 2017
Reviewed by: Steve Bennett
Recent Reviews
What do you think?