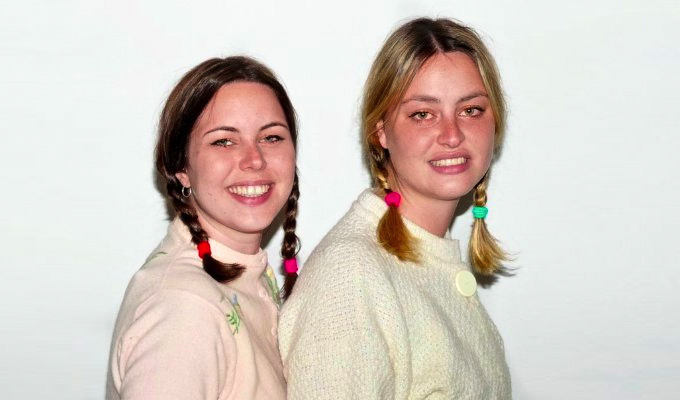 Siblings
Siblings wear their theatrical background very heavily in their Edinburgh debut, which is full of arch overacting and preposterous prancing about, but only occasionally bursting through into proper funny.
Maddy and Marina Bye are real-life sisters – the daughters of Ruby Wax and TV producer Ed Bye – who set up their double-act tension with the very slightest of differences. A lot of money was spent on teaching performance skills to Marina through classical acting training; while a lot of money was spent on teaching performance skills to Maddy through a clown school.
At its best, this manifests itself in a Cannon-and-Ball style dynamic, where Marina tries to do her serious Shakespearean monologue despite the distractions of Marina larking about, especially when she gets her hands on a hairdryer and some confetti. And the chemistry is a good as you might expect from siblings who have spent a lifetime winding each other up.
But too often the show resorts to drama school kids doing drama school-type things, with mockingly exaggerated movement or overblown acting – exploiting the sisters' ease on stage but also feeling self-indulgent.
Sketches, which sometimes require an audience patsy, are more miss than hit, and most go on too long. Examples include the anti-bullying campaigners and the hillbillies running the Shackety Shack bait shop; both scenes are driven only by an irritating energy, leaving nothing to subtlety.
Notable exceptions are their yummy mummies engaging in passive-aggressive oneupmanship. Here they take a comedy cliche and elevate into repetitive absurdity about 'chitting and chatting' in a scene that could come out of Ab Fab.
Away from the stage, there's lovely video footage of Maddy as a toddler, resolutely not joining in a group activity at nursery, which is semi-successfully inserted as a running joke about her true character. For when it focusses on them and their slightly nutty 'real' personalities, rather than the overplayed caricatures they've created, the show is at its best.
Review date: 21 Aug 2017
Reviewed by: Steve Bennett
Recent Reviews
What do you think?