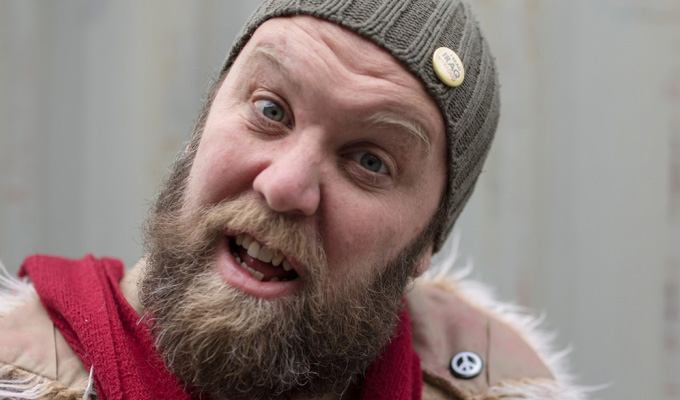 Bob Slayer: Whatever Next?
Note: This review is from 2017
Who would have put money on Bob Slayer, with his reputation for being a professional idiot (pushed by himself as much as anyone), would have had such a key role in trying to revolutionise the Fringe?
Adapting the free fringe ethos, his Heroes venues challenge the big four Edinburgh venues, which charge comedians such big bucks to perform that it's hard to turn a profit even with relatively high ticket prices. But Slayer has come up with an even more inventive way to make money in this show: he's asking audiences to pay to listen to him advertise his venues.
That's slightly unfair, but he does spend a lot of time singing his own endeavour's praises while slagging off the corporate side as the festival as he puts the world - or at least the Fringe - to rights.
There is some humour in this - not least him offering to work for the Pleasance as a human microphone for less than they charge comedians – though it's primarily driven by a sense of injustice. Some of the realities of festival finances are certainly made funny by Slayer's two-fingers attitude, especially his explanation of how the Underbelly seems to prioritise paying for Astroturf over paying its performers.
Other Fringe experiences that he shares cover how he became 'Mr Loophole' to get the Blundabus venue on the road, or recalling how his guerilla prank to promote Kunt & The Gang upset a certain agent suffering a sense of humour failure. Does this comprise a show? There's the rub.
It's a cliché of reviews to say listening to a comic is like hanging out with him down the pub, but there's a certain beer-swigging camaraderie in a Bob Slayer gig, with an audience – many of whom are repeat customers – just keen to share in the idea of associating with such an anarchic figure, even if he's on good behaviour tonight.
There is a bit of a story beyond the Edinburgh in-moans, too, for he speaks fondly of how his eccentric but disciplined chicken-rearing father instilled in him an ethic to take on projects and to live by the motto: 'Do just a little bit more than the average, and you'll do well, as the average is so low.'
As a bonus tonight, the bearer of those words, Mr Slayer Sr (not his real name) was aboard the bus to share a couple of anecdotes of his own. He seemed proud that his son had certainly done 'a little bit more than average' on building his mini Edinburgh empire. Even if, for his own show, the comic hit that median more squarely
Review date: 19 Aug 2017
Reviewed by: Steve Bennett
Recent Reviews
What do you think?