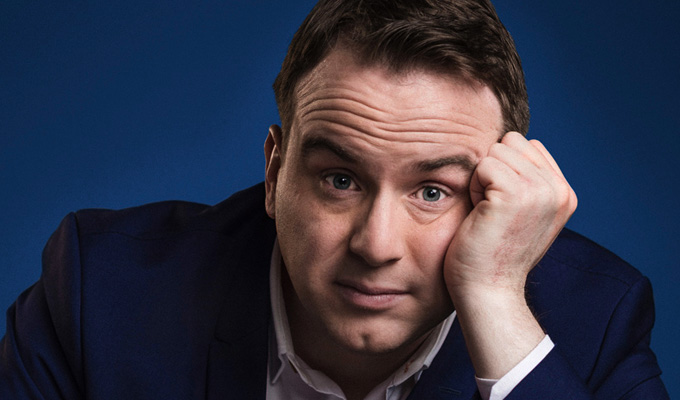 Matt Forde: A Show Hastily Rewritten in Light of Recent Events – Again!
Hey, America! You can keep your super-slick, alpha male satirists with suspiciously black hair. We've got Matt Forde. No over-the-shoulder videos to prop him up, he's just got a bag full of gags, and some pretty uncanny impressions, just like Rory Bremner did in the old days. And it works.
The irony is that Forde presents an American-style satire show on Dave, called Unspun. That seems to have sharpened his writing skills, though, because his latest show is a hugely impressive hour of political comedy.
Apart from being consistently funny, it manages to avoid being predictable. That's quite a feat considering satirical gags are two-a-penny on social media. The only thing that's no surprise is his defence of his political hero (and former employer) Tony Blair. Other than that, his treatment of thoroughly flogged politicians like Donald Trump, Nigel Farage and Jeremy Corbyn is fresh, original and funny.
His commitment to even-handedness is a little annoying, as he moves methodically from one political leader to another every few minutes, but I think that's the price you pay for a bit of dispassionate objectivity. And the broad-brushed nature of the show doesn't make it feel insubstantial in the least.
As is alluded to by the title (A Show Hastily Rewritten in Light of Recent Events – Again!), Forde isn't exactly short of source material. The General Election, Brexit (both referendum and fallout) and Trump are a gift to satirists, and Forde wastes none of these opportunities. Some of the best gags were in the Corbyn and Tim Farron sections. Forde's description of Corbyn reluctantly campaigning for Remain will leave a bizarre comic image on your brain.
The show sags a little in the middle when Forde lets his inner political wonk get the better of him and gets a bit strategic – he is a former Labour adviser after all. But something good comes out of it: his routine on getting children to buy into the idea of paying taxes.
As for the impressions, they really do enhance the show. Honest. His take-off of Boris Johnson reacting to a terrorist attack is terrifyingly close to reality, and a few more unlikely impressions like Nick Robinson and Paul Nuttall give things another little lift.
It's his Donald Trump material that stands out, though. Forde's impersonation is easily better and funnier than Alec Baldwin's on Saturday Night Live, mastering the president's facial ticks and bizarre syntax. Forde milks it, going back to it more than a comic would normally, but it keeps hitting the spot, and it's complemented by some really strong lines too.
Not once does Forde go for easy laughs, when it would be so easy to. Instead, he toughs it out, and delivers an hour of high-quality, intelligent satire.
Review date: 19 Aug 2017
Reviewed by: Steve Bennett
Recent Reviews
What do you think?