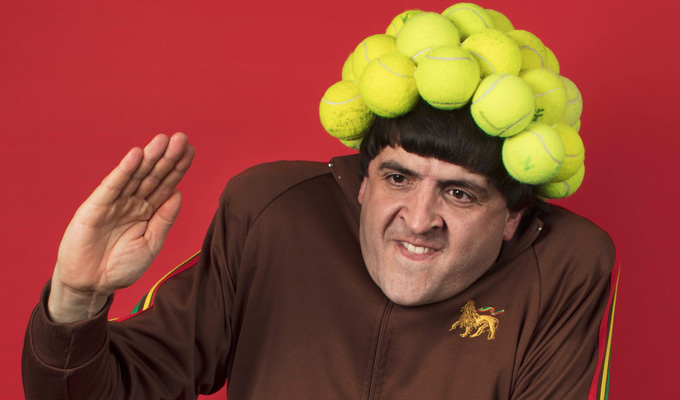 Spencer Jones: The Audition
Note: This review is from 2017
Spencer Jones is often compared to Tommy Cooper, but repetition doesn't make the description any less valid. The simple glee he finds in his joyously silly prop gags is certainly as infectious as his fez-wearing forebear.
He also shares that rare ability to get a laugh before he's even been seen, the nonsense warm-up noises coming from behind the curtain inducing a fair few titters.
Nevertheless, Jones tries to manage our expectations by claiming The Audition is several rungs below 'work in progress'. True enough a couple of skits don't properly fire - but he doesn't need me to tell him that, he's got a jingle that does the job. Proclaiming 'Something's Gone Wrong', it acts like an audio test card until normal service can be resumed.
The track fires a couple of times, but even an incomplete hour by Jones contains more moments of wonderfully silly invention than many comedians can achieve in their career.
This time around, it's tennis balls that produce some of the most hilarious. He says he's over-ordered 250 of them, so has formed them into all manner of daft critters with googly eyes and fake feet. They are so adorably cute they could be a lucrative range of merchandise.
But Jones's best purchase is a vibrating board designed for weight loss, which he misuses to devastatingly funny effect, producing huge, primal howls of laughter. It's such an apparently simple bit of foolishness, but no one else thought of doing this before.
And while that is lo-tech, Jones has also brought loop and sample machines, to layer up some of his infectiously catchy – and again utterly dumb – tunes to back up the prop work,
Such high jinks are very much in the spirit of The Herbert, the alter-ego he used in previous shows, although he is clearly moving away from that character. He's growing out his pudding-basin hair a bit; is wearing a shirt and tie (even if the coathanger is still caught in the back), speaks as himself more and puts in some elements of his real life.
They include the playing of a taped chat about the birds and the bees with his young son that's just adorable – and if you think much of what Jones says doesn't make sense, wait until you hear his offspring.
Then there is the titular story, about him auditioning Stephen Spielberg to play the part of a robot. Jones acts out the build-up, his nervousness and the lengths he went to to impress the great director, all in his brilliantly idiosyncratic style. How much of this is true matters not, as it has surely been informed by all the terrible read-through experiences he, and every actor, has endured.
This strong narrative core is something of a revelation for an act who has always been so good at harnessing the preposterous and adds an extra element to his already brilliant shows. All in, The Audition is just one step up that work-in-progress ladder away from being genius. Unadulterated, dumb genius.
Review date: 13 Aug 2017
Reviewed by: Steve Bennett
Recent Reviews
What do you think?