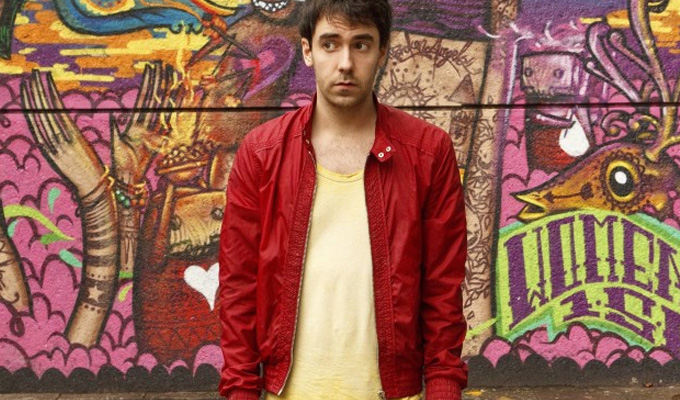 Adam Hess: Cactus
Note: This review is from 2017
Adam Hess had one of my favourite shows of last year. Frenetic, funny, physical. Yet, he remains a comic who feels like he's just bubbling under, probably funnier than a lot of more successful comics, and surely not far from some sort of breakthrough. This year's show is another strong offering, but it doesn't feel like the game-changer he's due.
Having come out of a long-distance relationship, Hess bumps into an old school friend whom he used to be infatuated with, and they start hanging out. Perhaps, after all these years, Hess might just end up with the one that got away. The unlikely lad has a shot at glory. Except Hess casts himself as the idiot in most of his stories, so what are the chances of this going to plan?
What's odd is that Cactus takes a little while to get going. He tells us anecdotes about a toilet visit on a plane, a medical trial, and a childhood lie that got out of hand, none of which really hit home. It's not until the second half that we get the sort of gold that he's capable of, with a tale of meeting another old friend on a train, and a truly ludicrous story that involves him momentarily thinking he's brilliant at rowing.
Hess doesn't allow himself a clear run at anything, interrupting his flow to give us some one-liners or tell us the ridiculous thing his parents used to do. These are actually worthwhile endeavours, providing some of the biggest laughs of the show, like his profiterole epiphany, and his rendition of a man being shown how to operate a shower.
His romantic odyssey ends in a happy place, if not the one you might expect. As he looks back at it all, Hess gets dangerously close to being sincere, consulting the diaries from the past year and his school days.
He's the kid who jabbers away at the back of the school bus who actually turns out to be funny, and he's got a wiser head than he might want to convey. Cactus underlines his quality, albeit in a fitful way.
Review date: 12 Aug 2017
Reviewed by: Paul Fleckney
Recent Reviews
What do you think?