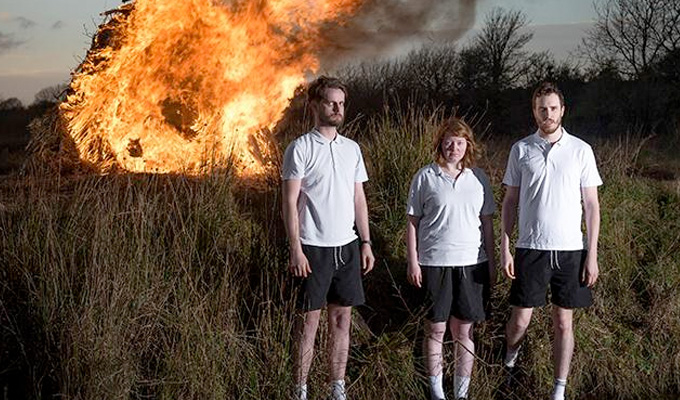 Gein's Family Gift Shop Volume 3
There's been a loss in the Gein's family – James Meehan is taking a break from the group. So this year Gein's are but two.
And Meehan might have mixed feelings about how well Kath Hughes and Ed Easton have coped with this sudden loss, because Volume 3 is another terrific hour.
The stroke of brilliance in this show is their decision to replace Meehan with a man called Adam, who appears every now and then to make up the numbers. Adam is cast as a mysterious, Pinter-esque outsider, who stalks their sketches with quiet menace. Easton and Hughes bully him like he's the new kid at school, shoving him offstage, keeping him in his place.
They're the salt-of-the-earth fun guys, he's the public school-educated disruptor who thinks he's above them. Adam plays this to perfection, not rising to their goading. So often sketch groups strive to find an original way of framing their sketches, and this is one of the most successful I've seen.
Oddly, though, this wasn't enough for them, as there's another twist to how they perform the show, which was perhaps thought up before Meehan dropped out. It's the sort of structural flourish that The Pin do far better, but here barely noticeable and doesn't really add any material pleasure to the show, rendering it a bit pointless.
To the meat of the sketches, and as ever with Gein's there's a healthy dose of juvenile darkness in the writing, with all manner of murders, dead parents, animal cruelty and poo references. The humour is often in the execution more than in the ideas, with Hughes's wonderfully dry delivery, and Ed's physicality which is reminiscent of Basil Fawlty.
A sketch about a man being grilled by airport security takes a very funny scatological diversion, and Ed makes a star turn in the wedding where bride and groom can't seem to kiss.
There's a bit of repetition of similar ideas. That wedding sketch has a similar reveal to another one where Hughes and Easton are having a sneaky conversation about which audience member they'd like to kill or shag. And there are two sketches that involve taking elaborate steps to deliver bad news. It's a quibble, but not an insignificant quibble. Their collective creative minds clearly end up in the same place sometimes.
There are some really nice touches scattered throughout the show, with lines dropped in about working-class representation in theatre, feminism and Brexit. The one I especially liked was their split-second V-signs, made to the camera while having a horrific time on a rollercoaster.
It's another deliciously dark and funny hour of sketch from the Gein's gang.
Review date: 11 Aug 2017
Reviewed by: Paul Fleckney
Recent Reviews
What do you think?