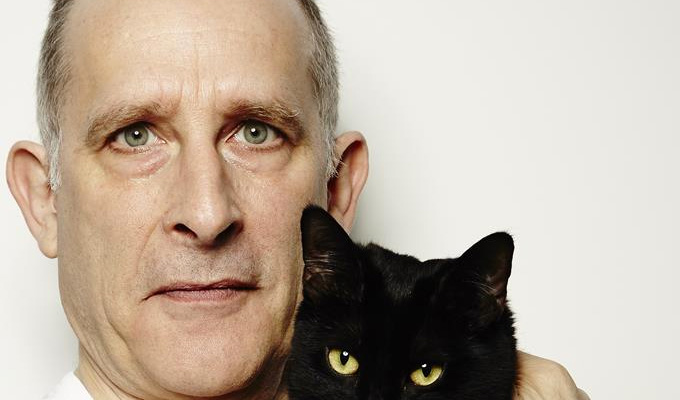 Nick Revell vs Lily, Evil Cat Queen of Earth Planet And The Laughing Fridge
Here's a curious thing – political comedian of weight, substance and integrity Nick Revell has a new show that's part-fantasy, part-animal whimsy. Two years ago, his show was called Feminist Porno Jihadi, this year it's Nick Revell vs Lily, Evil Cat Queen of Earth Planet and The Laughing Fridge.
It turns out very few people can resist a cat.
But don't for one second think that it's the stage equivalent of a cute five-second video on your Twitter timeline. Instead, it's reassuringly Revell-like in its weight and pertinence. As if to underline that fact, one of the show's many layers is about Donald Trump and Kim Jong-Un taking the world to the brink of nuclear war – there's no way he could have just weaved that in over the last few days.
The internet of things, automation and recent advances in neuroscience are just some of the topics that feed into his tall tale. It's as if JG Ballard has written an Edinburgh show from beyond the grave.
Without giving too much away, Revell is living in a flat belonging to his friend, a tech genius who has rigged it up so that every object is 'smart'. The place is virtually alive.
He then accidentally adopts a stray cat (I never thought I'd see Nick Revell do a routine about trying to get a cat in its box, but there you go), and his local vet persuades him into fitting the cat with 'neural lace', as part of ongoing research into this potentially revolutionary technology.
There is a point in the show where it goes from potentially fact, to definitely fiction. Up to then, it's a pleasingly roguish story about his day-to-day life; after then, it's dystopia o'clock at the Stand 4. It's a test of Revell's storytelling skills getting us to take that leap with him, but for me he passes, ramping up the pace and the rhetoric, driving the narrative home.
Nick Revell was nominated for the Perrier award in 1987, alongside Jeremy Hardy and the bloke who went on to narrate Peppa Pig. Whether he's done another show like this in the intervening time I don't know, but it does suit him.
It's profound and impressive and expertly delivered – in fact, it's many things, but the one thing it's not is funny. For a comedy show, I was disappointed about the chuckle quotient, which is frustrating as it's not as if Revell doesn't know what he's doing on that front. Maybe he should throw in a few five-second cat videos.
Review date: 10 Aug 2017
Reviewed by: Paul Fleckney
Recent Reviews
What do you think?