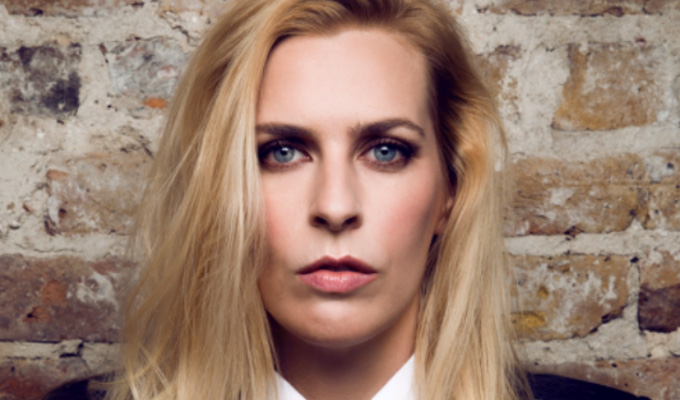 Sara Pascoe: LadsLadsLads
Note: This review is from 2017
This is something of a departure from Sara Pascoe's recent work, which has offered a well-researched, hard-hitting commentary on the likes of chauvinism, oppression and body issues, and which culminated in the brilliant book Animal.
As an antidote to all that seriousness – which she always handled with a deft comic touch – LadsLadsLads is a more personal, more instantly accessible hour, primarily about her efforts to become happy as a singleton, after 15 years as half as one couple or another. She always 'overlapped relationships,' she says, a euphemistic phrase if ever there was one.
Her lighter new style is also reflected in her unexpectedly spangly stage outfit, like a showgirl after a night out, shoes discarded and a borrowed jacket to protect from the evening chill.
We start from the breakup of her last relationship, with fellow comic John Robins, last December, leading to a very awkward Christmas Day as they still lived together. She doesn't name Robins, but we know – which gives the sad story extra intimacy.
To come to terms with her new relationship status, she heads for a yoga retreat in Costa Rica – ripe for mockery – while she also looks back at previous relationships. It's a very confessional style as she talks openly about not getting the sex she wanted, for example, or trying for a baby.
She acknowledges that her content, complete with talk of vibrators, might be a more explicit that some fans might expect, but it's done from the position of wanting to be candid, rather than to shock. And to wind up the man who thought that her material was 'too tamponny'.
That said, candour doesn't necessarily mean she's entirely comfortable with the airing of intimate details, and that gives her a vulnerability that's endearing. Her story about getting unduly emotional at the start of he menstrual cycle (sorry, 'tamponny' guy) underlines her fragility.
She occasionally touches on longstanding feminist bugbears, too, especially the 'fetishising' of the man picking up the bill, as relentlessly illustrated on Channel 4's First Dates, being a stand-out affront to her ideals of equality.
But her new frames of reference, comedically speaking, haven't quite fully set. There is a bit that champions incest – ironically, of course – which seems to have come from the playbook of a shock comedian. Not that Pascoe's overly concerned with good taste, but this seems gratuitous and insincere when the rest is hewn from her own experiences.
Similarly unconvincing is her conclusion, a contrived way to tie up various strands in lieu of reaching any sort of closure in her new life.
For she's still not adapted to being single as well as she'd hoped, even though she believes it to be the human's natural condition. She never again wants to be consumed by another person, a situation for which she makes a darkly wry, and nicely underplayed, analogy.
Even if both her life and her comedy are in a state of flux, Pascoe can be frank, funny and opinionated, with smart and distinctive writing to see the sometimes darkly funny side of her unsettled life.
Review date: 10 Aug 2017
Reviewed by: Steve Bennett
Recent Reviews
What do you think?