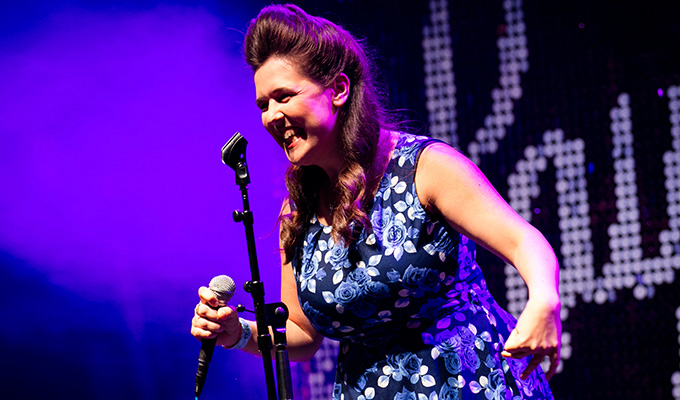 Rosie Jones: Inspiration
People keep telling Rosie Jones she's an inspiration for living with cerebral palsy. Not quite true. She's an inspiration all right. But for dickheads.
That's the take-out message from her short stand-up debut. There's a mischief in her that enjoys winding people up, often under the cover of her disability, and this is a celebration of that playfulness.
Initially, the audience are the victims of that devilment, as she plays with the uncertainty about whether she'll be funny or not, stringing us along as she appears to be speaking earnestly about her condition, before dropping that first tension-relieving punchline.
And because she naturally has a slow, careful way of speaking – a delivery less hurried even than Stewart Lee – we lean in to hear, which only draws us closer to be pranked. She's like a clown with a squirty flower on her lapel, urging us to smell it only to end up looking stupid when we do.
One of her pet peeves is unthinking political correctness. After all, who is a co-worker to tell her she can't use the word 'disabled', especially when the alternative is such a mouthful? And on the subject of weighted terminology, Jones has fun with the word 'spastic', just because she can and we can't. Her routine is impishly transgressive – and medically accurate.
As well as mocking kid-gloves attitudes to disability, she also has a healthy streak of self-deprecation, which only reinforces her confidence, never undermines it. For her provocations are always good-natured, whether aimed at herself or others. It's rare to see a comedian who exudes such joy. She's happier in her 'differently abled' body than most comedians, and a cheeky grin follows her every waggish punchline.
Such good cheer makes her excellent company – certainly, we want to hear more than she can deliver in a show that under-runs its 45-minute slot, which augers well for whenever the full-length debut comes. Just don't confuse her infectious positivity for being 'inspiring'.
Review date: 8 Aug 2017
Reviewed by: Steve Bennett
Recent Reviews
What do you think?