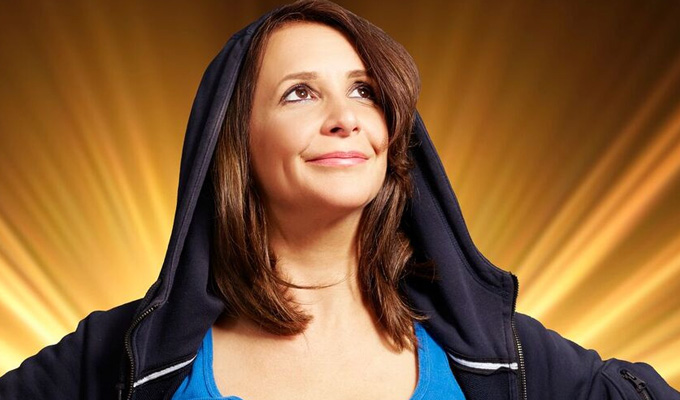 Lucy Porter: Choose Your Battles
Note: This review is from 2017
'I'm the most controversial comedian at the Fringe,' says Lucy Porter. Luckily, she's joking. In other shows around Edinburgh you get political rants, coruscating tales of mental health breakdown or, as I saw today, a rendition of Swan Lake performed by a woman in a parrot costume speaking pidgin French.
But at the Pleasance Forth at 5.30pm each day, the envelope will go very much un-pushed. It is, to use a surprisingly inflammatory term, a safe space.
As if to hammer the point home, Porter's 2017 show is about her aversion to conflict. Her two children have started fighting like never before, she and her husband prefer stewing resentment to cathartic blow-outs, and she can't bring herself to demand money from the man who owes her a lot of it. In response, she has sought help in books and found herself envying people who can take a position and stand up for it.
It must be said that, at this time of polarisation, where even the most non-political people have picked a team, Porter's ability to play peacemaker and see both sides of the story is quite astonishing. And actually quite infuriating. She asks the audience to take a blind vote on three hypothetical situations, for example about whether to stand up to internet bullies or let them shout into the void. At the end of all three votes, she says that she can empathise with every single one of the answers that were on offer. This renders the votes pointless and makes me want to shout: 'Oh come on!'
So it must have been something of a shock to Porter when a mischievous gag on the radio about French people caused a storm last year, and she was hauled back on air to justify it. And she said she didn't do controversy. It's not the funniest section of the show, but it does, at last, introduce a bit of jeopardy.
Despite all this, Choose Your Battles isn't too cosy to be funny. There are enough laugh-out-loud moments to sustain the hour and Porter is an ever-engaging comic to listen to. She has also nailed the art of constructing an hour-long show (this is her 11th now), with enough bells and whistles and little structural gimmicks to raise it above being just 60 minutes of talking.
Her discursive style means that there are sometimes large gaps In Between the jokes, and this actually doesn't seem to matter, as her shows have the feel of meeting a funny friend for afternoon coffee. A lot of the comedy does come from 'funny things people have said to me', which always strikes me as an easy route to laughter, but her choices are at least amusing. Conversely, a heavily built-up section that relies on phone auto-correct for laughs is both lazy and not as funny as was billed.
In the end, Porter does pick a side on a particular argument, which explains why she has spent her entire time on stage surrounded by packets of crisps. It's a nice touch on which to finish, and gives the show a little boot up the backside on its way out the door.
Lucy Porter's stand-up makes Last Of The Summer Wine seem like The Word. It's middle-class, middle-aged and middle-lane, and it isn't going to change. It's the big baggy jumper you reach for after a hard day. And Choose Your Battles isn't a bad option to plug into your schedule.
Review date: 8 Aug 2017
Reviewed by: Paul Fleckney
Recent Reviews
What do you think?