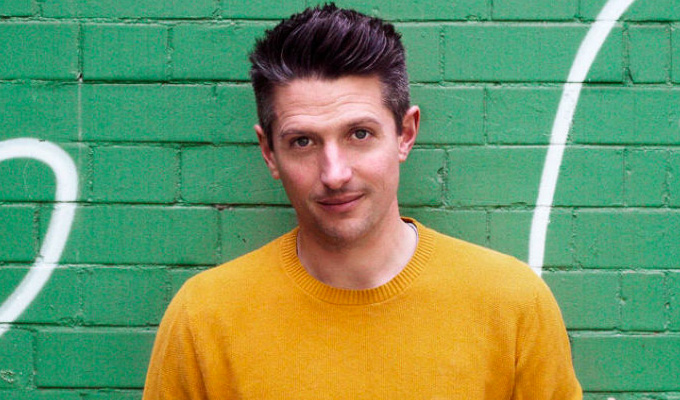 Stuart Goldsmith: Like I Mean It
'I've completed therapy,' Stuart Goldsmith boasts, as if it were a demanding box set or the latest Call Of Duty. 'I have never been this happy.'
However, that doesn't mean he's nothing to complain about. The source of his contentment is him finally getting married and having a baby, both major upheavals that have forced him, as a 40-year-old-man, to put away adolescent things and at least try to face up to responsibilities.
That's an Edinburgh show template for any comedian of a certain age (that certain age usually a decade later for arrested-development stand-ups than people with more grown-up jobs). However, Goldsmith has sidestepped the usual comedy clichés thanks to truthful stories, full of fine detail and elegant analogies, and seasoned with a dash of self-analysis as he plays the exasperated husband and father. Some lines leap out for their perfect phrasing.
The story spins off into several barely related chunks of observational stand-up, and it's testament to Goldsmith's fluid, conversational style that we can find ourselves flip-flopping between discussions about the cruelty of French cuisine, his emotional flip-flopping as he watches Planet Earth, or imagining the scene of various robots drinking in a bar at the end of a hard day's work. Very Izzardesque, this.
More on-topic are some of his wife's quirks, as she seems prone to picking up lifestyle fads from the internet, or the frustrations of trying to feed or, tougher yet, entertain a baby.
Goldsmith doesn't alway make this resonate quite so strongly as it could, either by way of 'we've all been there' relatability or through a performance of compelling, heartfelt passion. But he's a charming and empathetic raconteur, and we do feel his annoyances, if not quite so strongly as he does.
Similarly, the sense of drama though the unfussy and robust stand-up isn't overly heightened – save for a cracking closing routine where the jeopardy of his son coming a cropper while supposedly in Goldsmith's care.
But that's life. No great 'journey', just a series of, well, baby steps, along the road to being a more mature man. Goldsmith is striding confidently along the road to being a more mature comedian, too, with this sophisticated hour of comedy, resolutely good-natured but with a bit of substance.
Review date: 5 Aug 2017
Reviewed by: Steve Bennett
Recent Reviews
What do you think?