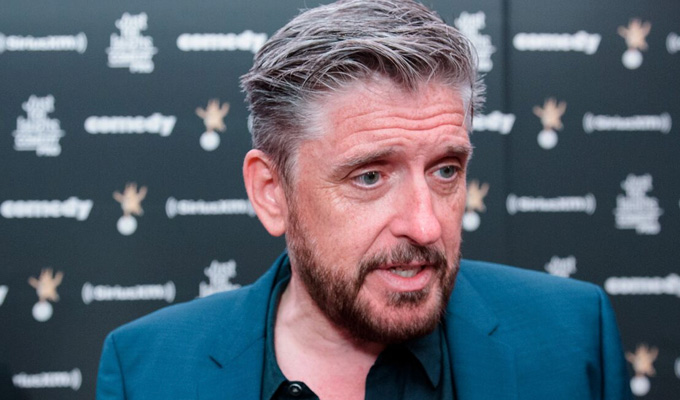 Craig Ferguson: The New Deal Tour
If there's one person guaranteed to have a good time at a Craig Ferguson gig, it's Craig Ferguson. The man is full of joy at being on stage, laughing freely – but never self-indulgently – at his own cheek or ridiculousness. His routines and digressions flow freely on such mischievous charm, feeling spontaneous even if we all know they're not.
Such gleeful spirit enhances his considerable talents as a storyteller. Each unlikely yarn, from his night in a haunted hotel to the real reason he showcased magicians on his Late, Late Show (it involves breakfast tequilas, a stolen limo and a crooked judge) is told with an engaging 'you won't believe this shit…' tone that pulls the audience firmly on side. Each anecdote starts with an outlandish-sounding fact before he adds: 'Let me explain.'
The Scot's slot on late-night TV, now occupied by James Corden, has not blunted the stand-up skills displayed on this tour, being taped by Netflix at Montreal's Just For Laughs festival to be his fifth special. But his time in Los Angeles has affected him in other ways – this one-time alcoholic hell raiser (and former bandmate of Peter Capaldi) is now a clean-living vegan. Or 'pussy' as he puts it. Yet his supercharged, super-effusive performance gives lie to the stereotype that vegans have no energy.
Ferguson's nice-guy angle extends to giving a pal a break, and having a complete newbie open for him: the guy who played the front half of Secretariat the pantomime horse on his talk show and who'd never done stand-up until this week. It showed, with a rather awkward few minutes, despite the generosity of the crowd.
Ferguson's own performance started relatively low-key, too, with chat about his beard, his beef with angry 'cat ladies' who take issue with the edgier parts of his comedy, and the running gag that 'I'm going to get on with the show in a minute'. That show being based on the idea he's trying to tell a single joke, but gets distracted. If that sounds a little disingenuous, you soon lose your reservations in his ebullient stories.
There's more to the routines than his personable shtick, the occasional barbed line eviscerates with attitude, while judicious use of callbacks lends some substance. They include trying to convince the world that Trump is Scottish slang for a shit, or trying to get 'whizz-bang' to catch on as a versatile word of many meanings.
Apt, for The New Deal Tour is a definitely show with plenty of whizz-bang.
Review date: 30 Jul 2017
Reviewed by:
Recent Reviews
What do you think?