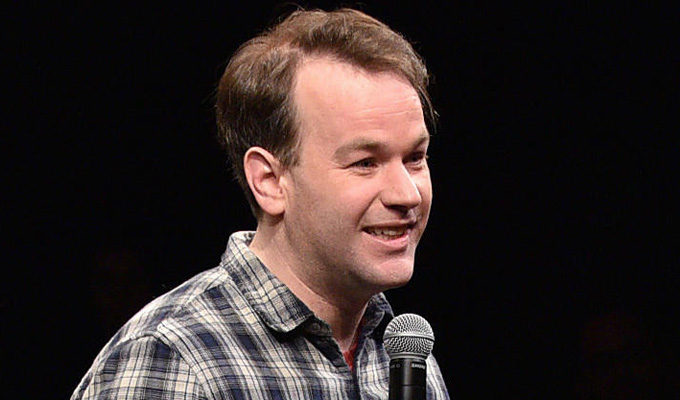 Mike Birbiglia: The New One
Knowing how to tell a story is part of a comedian's job description. But even so, few do it with quite the same grace and skill as Mike Birbiglia.
The New One, which has premiered at Montreal's Just For Laughs festival, is very much in the same vein as the other autobiographical shows this eminently likeable comedian has performed: a precision-crafted stroll through observations large and small, all anchored to a central narrative of empathetic personal drama.
Relatability is key. With his neatly tucked-in plaid shirt and pressed chinos, he's the image of the ordinary suburban white-collar worker. His performance seems conversational, although there's a lot of craft that's gone into the pacing, pausing and subtle variations between soft-spoken and more urgent tone. The fact this goes largely unnoticed is all part of the art, and at times calls to mind Woody Allen's early tall tales, and with a few of his neuroses, too.
In The New One, Birbiglia takes on a topic more recognisable than most: whether it's time to settle down and become a father. The title, it transpires, has a meaning beyond the generic. But of course it does, Birbiglia's storytelling is always layered so that apparently minor details or subtle catchphrases echo down the story,
He starts with a preamble about couches; exploring the topic from all sorts of comic angles, from giving his side of the conversation with the salesman that sold him his first sofa to attributes as a piece of furniture with none of the arrogance of the bed. But if you think this routine has no bearing on the rest of the story, that would be to underestimate the subtly interweaving nature of Birbiglia's work
The callbacks even span different shows for the die-hard fans. He has a seven-point list of why he never wants children, a premise which is an unacknowledged mirror of the seven points he made in his earlier show, My Girlfriend's Boyfriend, about why he would never get married.
He also has more on his sleepwalking, too, and no wonder, given it's something that poses a mortal danger to himself. Just because you've done a show about your condition, doesn't mean it's cured, Birbiglia notes wryly.
This meandering story also takes us through humiliating medical procedures and to his checking out the Amsterdam red light district. Familiar stand-up premises they may be, but Birbiglia mostly avoids the cliches to make us see the experiences – which normally involve a shredding of his dignity – through his own eyes. But while he can make you cringe, the next moment you can also be touched by the fleeting beauty of humanity.
The next sentence may be a spoiler, so look away now if you don't want to know the result… but he and his wife do end up having a child, which further pounds Birbiglia's ego and standing. He becomes a Rosencrantz or Guildenstern in his own home, telling the story of his own family from the sidelines, as a now distant outsider.
But the wit of his descriptions remains undimmed. Of course it does; for he's a class act. When it comes to being a comic raconteur, Birbiglia's the daddy.
Review date: 26 Jul 2017
Reviewed by:
Recent Reviews
What do you think?