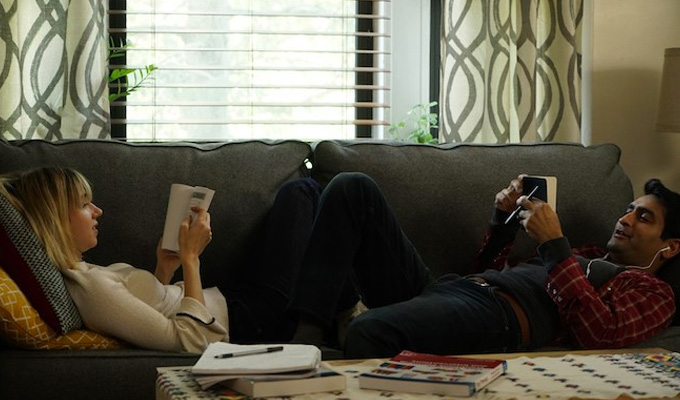 The Big Sick
Note: This review is from 2017
The Big Sick is surely the funniest 'girlfriend in a coma' movie you'll ever see. Kumail Nanjiani – the comic hitherto best known for his work on Silicon Valley – and Emily V. Gordon have mined their real-life courtship to produce a near-perfect blend of comedy and drama, played out by an endearing and quirky cast.
Maybe because of those autobiographical roots, The Big Sick has an authenticity, as well as a beauty, in the way it explores complex emotions, without ever using sight of its comic goals.
Nanjiani plays a stand-up – as most comics must do in their calling-card projects – and Uber driver, a disappointment to his traditional Pakistani family who are, of course, set on him being a lawyer. They are also set on him meeting a nice Muslim girl, and the pantomime of his fearsome mum (Zenobia Shroff) setting him up with a succession of singletons who just happen to be passing by at every family meal time is a knowing and funny running joke.
However, Kumail has fallen for a white girl he met at the comedy club, Emily, played by Zoe Kazan, as an endearing eccentric without ever straying into clichéd kookiness. A delightful, hesitant courtship plays out, flirty and touching as their caution erodes. Then the flashpoint, as the brutal reality hits Emily that this relationship will never work while Kumail is beholden to his orthodox family and they split up. Then she gets that 'big sick'…
While she's unconscious, Kumail is forced to forge a new relationship – and this one from the prickliest of starts – with Emily's parents. It's a career redefining performance from Ray Romano as father Terry, advancing the comedy doofus of Everybody Loves Raymond by giving his character complexity as well as a superbly defined deadpan. Meanwhile Holly Hunter compels as steely mum Beth.
Every character has depth in this movie that could so easily fall into familiar patterns of culture-clash comedy, medical tearjerker or 'meet the parents' conflict, yet dances around them every time.
Pretty much the only scenes that do play out as expected are in the comedy club green room, as the comedians snipe at each other superbly. The tone, combining the apparently contradictory stances of savage rivalry and cliquey camaraderie is, like everything in this film, spot on. Bo Burnham's cuttingly sharp CJ s not far from his own stage persona, though there's clearly affection behind the jibes he and Mary (Aidy Bryant) dole out to Kumail. Only Kurt Braunohler, wonderfully inventive in his real comedy career, plays against type as the no-hope hack Chris, who's also Kurmail's roommate.
The path of true love never ran smooth, and the film doesn't shy away from the toughness of making relationships work – but is ultimately optimistic that love conquers such trials, without ever expressing it so tritely. Another cliché dodged.
Tender while being proper laugh-out-loud hilarious in almost every scene and unflashily directed by Michael Showalter, The Big Sick is a classy piece of comedy. The film could maybe do with a 15-minute haircut, especially towards the end of the second act, but that's the only minor gripe about this near-perfect date night treat.
• The Big Sick is on general release from Friday
Review date: 25 Jul 2017
Reviewed by:
Recent Reviews
What do you think?