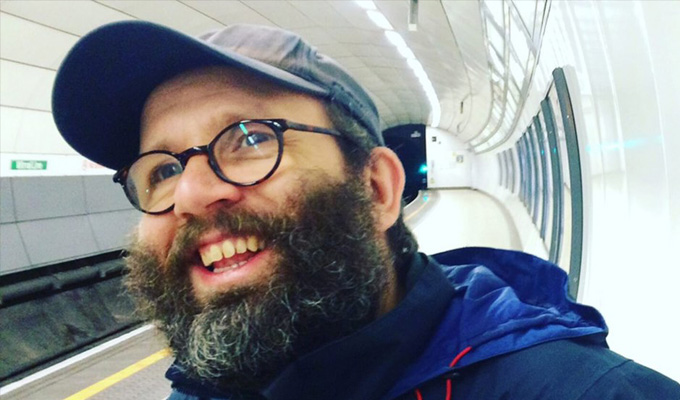 Daniel Kitson: Something Other Than Everything
Something Other Than Everything has been billed – with typical, if valid, immodesty – as Daniel Kitson's latest reinvention of the stand-up form.
In practice, it means this two-hour, interval-free, dissertation on the nature of society is presented with grandiose theatrically. His thoughts take many strands, which he jumps between abruptly. Then, just as sharply, we'll be back in the here and now – a non-linear structure favoured by arthouse filmmakers and smartypants novelists, each snapshot kept deliberately light on context, so the sense of each thread emerges only gradually
Different lighting states depict different states of the monologue; red for the main narrative, blue when he's acting out a short scenario to illustrate a point, white for what almost amounts to a footnote as he explains his thinking or mentioning what a once-in-a-generation visionary genius he is. (And so reasonably priced.) The show is delivered in the round – as the Roundhouse is designed for, the clue's in the name – and each of the main supplementary strands is addressed towards a different compass point.
He does some showiness with the sound design on occasion, too – though that doesn't add much.
Enough of the technicalities. The writing of Something Other Than Everything is dense with ideas on the problems of living as a community and Kitson's own state of being a privileged, liberal but self-centred man. And, of course, there's plenty of the self-aware whimsy we've come to expect. Kitson is a comedian who can muse thoughtfully on the very nature of charitable giving one moment, then on Lindt chocolate balls the next. And for all his romanticism, no one drops a C-bomb like he does, a low-art/high-art dichotomy at the heart of his appeal.
The show,18 months in the making, starts with the premise that in contrast with the reassuring words of murdered MP Jo Cox, there is actually more than divides us than unites us. Any relationship, friendship or social grouping is a compromise of these divisions – and only holds as long as there is an external 'them' to set ourselves against. No wonder the world has myriad complex problems, and Kitson addresses the biggies here: from racism, to poverty; misogyny to the semi-feral sheep population on the Orkney island of North Ronaldsay.
The prism is Kitson's own response to real-life scenarios, where he's normally felt awkward or inadequate, mixing big-thinking philosophising with a more personalised stand-up. And even when he's expounding on the complexity of big ideas, it's punctured with jokes, from creative swearing to beautifully crafted-aphorisms. There are so many epigrammatic bon mots here you'd probably want to bring a notepad to jot them down and quote later.
Yet it's gruelling for the audience. It demands your full attention, and there can be lengthy premises as Kitson eloquently – if verbosely – sets out his intellectual store before delivering the funnies. Combine that with the uninterrupted length of the show and it's notable how many people don't make it to the end. Some leave because it's not for them, others they've got trains to catch.
It's gruelling for Kitson, too. Not only are there a hell of a lot of intricate words and ideas to memorise, he's given himself command of all the lighting and sound cues too. It's probably necessary to get the timing right, but also subtly feeds into his image as a loner (or 'known recluse') that pervades the story.
All the show's demands are, in fact, too much for him. On this first night, he frequently stumbles over what comes next in the script. There's some fun to be had with the faltering, of course, reminding us that, despite Kitson's pretensions, this is loose stand-up, not a theatrical monologue, and allows some of the dense performance some much-needed room to breathe. But the halts make a long show even longer and become so frequent to become a distraction.
That is a consequence of a show that puts ambition above everything else, in the same way that the tricks of presentation seem there more for novelty than genuinely aiding the show. But the ambition of writing and of ideas that sets Kitson apart is still present. He's in a league of his own, even beyond the show's initial theme that we all are, to some extent.
• Something Other Than Everything is at the Roundhouse in Camden, North London, until July 29, then will be at the Manchester Royal Exchange from August 31 to September 9.
Review date: 13 Jul 2017
Reviewed by:
Recent Reviews
What do you think?