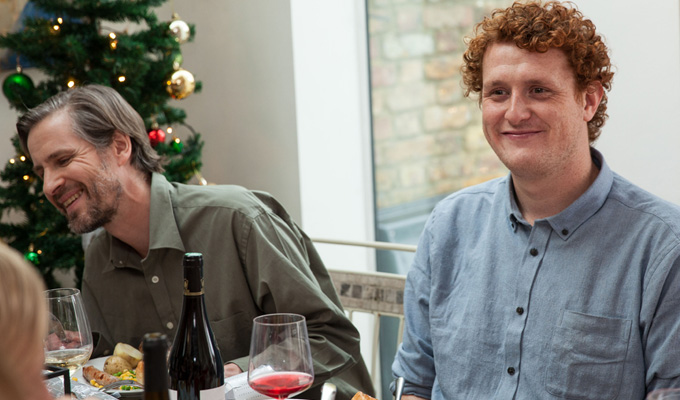 Chubby Funny
Note: This review is from 2017
The presence of Withnail And I looms large over Chubby Funny, a new comedy movie about two struggling actors adrift in London. Although Oscar (played by Harry Michell, who also writes and directs) is notably more struggling and more adrift than his flatmate Charlie (Augustus Prew).
As their agent, played with typical deadpan by Alice Lowe, surmises, Charlie makes a good romantic lead and Ocsar is 'best friend material… chubby funny'. 'It's not a bad thing,' she says, just before lining him up to play a cheery squirrel in a chocolate bar commercial.
There are plenty of funny scenes to establish all this, from silly banter 'with the guy who owns the corner shop (People Just Do Nothing's Asim Chaudhry) to the knockbacks hapless Charlie gets as he goes door-to-door chugging for a homeless charity.
Both leads are initially seen meandering through life, Charlie trying to figure out his sexuality, Oscar in an a noncommitted relationship with 'friend with benefits' Sophie (Isabella Laughland, shining by underplaying her role). It's all fun and games until somebody gets shagged.
Oscar takes a date to see Charlie on stage – and she ends up sleeping with him. A fatal blow to their bromance, exploding the fissure that Charlie is progressing in life and Oscar isn't, blaming everything but his own lack of application for his stalled career and personal life.
While the comparisons with Withnail are unavoidable – there's even a twist on the Uncle Monty encounters when Charlie goes for a drink with his old teacher (David Bamber) – Chubby Funny is a lot less bitingly cynical that its forebear, more sweet and warm.
The film has its flaws – some of the scenes feel like heavily signposted sketches, and the story arc is a little too straightforward – but it's enjoyable and good-hearted, with many excellent performances, and certainly a decent calling card for Michell. It might even help him break out of the 'chubby funny' stereotype himself.
• Chubby Funny is out now.
Review date: 2 Jul 2017
Reviewed by: Steve Bennett
Recent Reviews
What do you think?