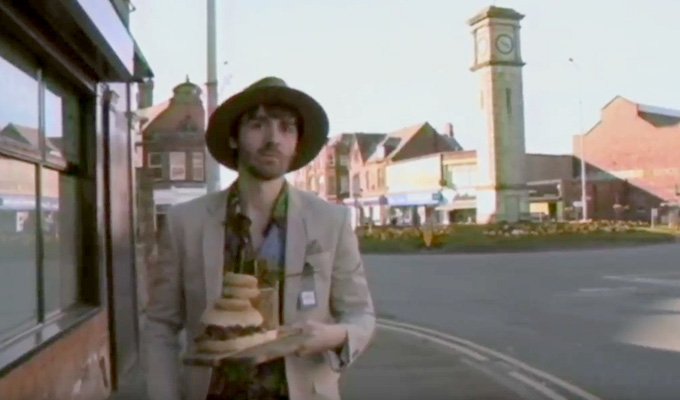 The Turtle package
Note: This review is from 2017
Today, independent comedy producers Turtle Canyon have dumped 12 films on to YouTube, featuring some of the cream of alternative comics
The 'Big Turtle Dump' will be followed by There's No I in Fishing - a slow, six-hour live stream of comic Pat Cahill angling on a riverbank to air on Saturday.
Here's our brief critical guide to the offerings released today:
Hope You Come Up Here
This is probably the best of the batch, a series of three spoof promotional videos in which Ian Smith waxes lyrical about his home town of Goole, variously described as 'the Venice of the North', or 'the thinking man's Pontefract'.
It's smartly and tightly written, with a plethora of strained analogies, tongue-in-cheek Northern cliches and awful puns, with washed-out cinematography that nicely captures a dated 1970s vibe, even though mention Google, and a guest appearance from the real mayor of Goole makes clear it's contemporary. But the dated vibe seems appropriate for the time.
Kathryn Bond, Sophie Henderson and Fergus Craig make fleeting guest appearances across the three episodes.
Culture
History:
Tourism:
Robert Johnson & The Devil Man
A retelling of music's great myth in which the modern-day namesake of the legendary bluesman seeks out his own Faustian pact with Beelzebub,selling his soul to become an incredible guitarist.
David Mills is the devil incarnate – and not quite what the 'fake news' about his character would have you believe. Certainly this millennial Johnson – as played by Joz Norris, who also wrote the script – is dissatisfied with the deal.
Directed by Matthew Highton, this quirkily entertaining ten-minute short doesn't quite play out how you would expect:
One More Night
This is the first short from stand-up Suzi Ruffell, but it isn't a comedy. In it, she displays some impressive acting credentials as a woman begging her girlfriend not to break off their relationship by locking them both in her flat overnight.
Co-star Rose Johnson puts in a less convincing performance as the partner who's had enough, but under the atmospheric direction of Turtle Canyon boss Stuart Laws, Ruffell's intriguing premise plays out dramatically. However it is her emotive performance that's the stand-out.
Just Puddings
Two comics on road trips is the format du jour for telly… and the premise for this one is that while Ed Gamble loves desserts, as a Type 1 diabetic can't indulge. So he takes James Acaster to the Fudge Kitchen in Windsor to describe the taste for him, after watching the confectioner at work.
The childish bantz are amusing enough, but 11 minutes is a long time for this segment.
I've Lost YouTube
Oh well, they can't all work…
Evelyn Mok, Sunil Patel & Sophie Duker had one hour to write and perform a sketch using only one line as inspiration: 'I've lost YouTube'
The result is a rather bland improv sketch in which Duker believes she's wiped the vast archive prompting Mok to fret: 'What about the cats?' The minute-long sketch has a reasonable punchline, but it's no classic.
Anxiety Diet
A decent sketch bout a fad diet written by and starring Annie McGrath, which at 85 seconds doesn't overstay its welcome – setting out its premise and tagging a few daft gags on to it before advisidely bailing out. Holly Burn, Brett Goldstein, Gabby Best and Phil Wang make appearances
Sat Navs Will Kill Us
A technologically challenge shoot is pulled off with aplomb, as the 360-degree VR shoot is seamless.
However the gimmick's far better than the sketch, as the viewer is trapped in a car with four comedians – Stuart Laws, Micky Overman, Lynn Ruth Miller and Jordan Brookes – arguing over directions until they get to an easy punchline. Proof that whatever the technology, the script is what you really need to invest in.
Biscotti
It's subtitled Cinema, Weird What? and that's a fairly good description of this brief oddity, starring Patrick Turpin in an advert for the little-loved snack. The commercial has been made to look as if it's been captured for YouTube in a bit of guerrilla piracy.
Memory Games
John Kearns stars a self-professed expert at remembering things, exposed by his flatmates Luke McQueen and Lizzie Daykin. It's another odd sketch, slightly disorientating in the way it doesn't make sense, despite everything apparently seeming like a normal skit. File under 'curio':
I Am Wario
Stuart Laws, Anne Klein and Matt Winning took their sketch group to Edinburgh last year, with the unique premise: that every single skit has the exact same punchline. Though there may be a reason why that hasn't been done before - and certainly the gimmick doesn't make sense when you only have one filmed sketch.
It's a bit scrappy, a single weak joke stretched over three minutes that takes an awkward and pretty literal route to the titular pay-off based around the Mario character.
Review date: 13 Jun 2017
Reviewed by:
Recent Reviews
What do you think?