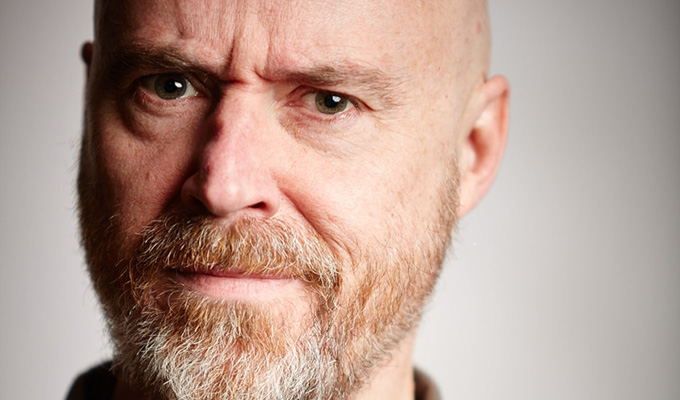 Old Comedian Of The Year 2017
Note: This review is from 2017
Of all the stand-up competitions around – and there are many – Leicester Square Theatre's Old Comedian Of The Year has a point of difference. Not so much the age cut-off – only over-35s need apply, which still leaves a pretty wide field – but the fact that entrants must have been going for at least five years… demanding the comedians have achieved a certain level of experience, without a level of recognition.
That's certainly true of the winner, Nick Elleray, as laconic a suburban Australian as the laid-back stereotype would have you believe. He has many a complaint about his lot in life, but he accepts it with a world-weariness.
Recognising that, at 49, his time to be at the cutting-edge of fashion are long behind him – as if he were ever there – his wardrobe needs are now anything that doesn't draw attention to himself. Meanwhile, he struggles resignedly with London property prices, being single and the general lack of vigour that comes with ageing.
This is classic middle-aged comic territory, but Elleray owns it well, thanks to a routine tightly packed with original jokes, a level of invention and work rate that belies his laconic style.
His slot came partway through the second half of a show that kept up a brisk pace, thanks to minimal banter between acts from compere Lynn Ruth Miller and a five-minute limit to each set.
The night started in imperious style with President Obonjo, the exiled dictator of an African republic now slumming it in St Albans while threatening a comeback with his 'strong and stable' brand of tyranny. I might get 'disappeared' for such treasonous utterings, but His Excellency rather squandered this wonderful set-up with too many peripheral jokes, too quick chat about other gigs just like any other jobbing comedian rather than exploit his unique character. However, he's got a suitably dominant delivery and some good jokes, not least a running gag about his own verbal habits, that entertain - if not strongly enough tonight.
Fred Ferenczi came from the opposite end of the confidence scale, a bewildered man with a shock of white hair and a festive jumper who spent his entire set toying nervously with some string he found in his brown cords. It's an arresting image, able to elicit laughs without him saying a thing. Meanwhile, his distracted patter is full of sarcastic, unconvincing commentary about his red-hot charisma and the rollercoaster of fun he's about to embark on. It's another great persona whose capital is not entirely realised, as once Ferenczi breaks into material about his real downtrodden life, it's more pedestrian and punny. But it's an intriguing, pensionable-age, take on the lot of a depressed beta-male comedian.
Talking of puns, Paul Warwicker has some of the most contrived wordplay you'll hear as he told a tall tale of being an animal investigator, which involved such scenarios as disguising himself 'as the letter V' in his quest, just to get to the next forced pun. A flat delivery did nothing to enhance the overelaborate set-ups and he got only pained groans.
At 65, Jac Bevan considers himself 'too old to be young; too young to be old', and paints an honest picture of that time of life, sometimes touching on darker moments as he discussed funerals, incontinence and dating in your seventh decade, even trying to pick up on cruise ships. His comedy is also in something of a limbo, however, with too many awkward moments in a routine shy on laughs. He does have a couple of home-run punchlines, but they rare beasts in a set that seemed to drag.
There's an old joke about playing a venue twice in your career, once on your way up and once on your way down, which may be relevant with Dave Gibson having performed at the New Comedian Of The Year competition here a decade ago. He's probably the night's youngest act and certainly the most vigorous, bursting through with energy and a willingness to cast aside some of his set for a nice bit of physical business with the unwitting MC and some spontaneous banter with the audience. At least up to a point. Having opened the Pandora's box of interaction, he got tangled up with it when he wanted to move on – it is a final, and he has just five minutes to impress, after all. His liveliness and readiness to go with the room did that, even if other acts had stronger gags.
Miller introduced Donna Scott as the only female comedian in the final and 'the only woman brave enough to admit she's over 35'. She's a poet, and gave us a couple of verses – though if that was a presentational distraction so we wouldn't notice the jokes weren't very good, it didn't work. She threw some almost-puns and dubious historical facts into the mix, the latter being the most successful but against a pretty low baseline… and the way she barked out the routine in a monotone was uneasy.
Javier Costales was a strange fruit. Fitting in with the stereotype of whatever unspecified Latin nation he comes from, he meanders languidly around his subjects with a touch of that 'mañana' attitude. It means he seems to stumble casually into some delightfully offbeat material – the best being his attempts to master the Cockney accent, which he hears as a sequence of meaningless noises. He's probably the most intriguing of tonight's line-up, even if the comedy isn't fully formed around this unusually casual personality. Yet.
Rob Thomas was a more obvious crowd-pleaser… a bit too obvious for my tastes, but he stills scored highly enough to secure second place. He's got a slick old-school style but doesn't push the boat out far - the opener, for example, is an alleged encounter with a brash, loud-mouthed American. Often you can see the punchlines coming – and at least once someone from the audience said it aloud before he did – and while he has a couple of very strong payoffs, too much of his set is safe and predictable, if undeniably well-delivered.
Given the age requirements, it was perhaps only a matter of time before we got to the dad jokes. And Gary Davis delivered. Unfortunately. If you like jokes such as 'my first girlfriend had a face like Concorde… plane looking' or 'Henry VIII's wives laugh their heads off' delivered in a stilted and awkward manner, he's your man.
'Awkward' is not an adjective you'd use for third-placed Chris McGlade, who has a compelling political rage burning inside him and delivers with a rare passion. A proud Smoggie, he makes affectionate jokes about his native Middlesborough and more barbed ones about the London liberal elite, who he likes to provoke with uncomfortable home truths about the sainted Barack Obama, among others. A full-on agitator, he had some trouble funnelling his political fury into a five-minute set – not helped by stumbling over a didactic poem that had been gripping our attention – but he's a rare and compelling voice we're sure to hear more of. And not only because it's loud.
If only Geoff Alderman had been so comfortable with his own material, as he didn't quite have the chutzpah needed to deliver the darker jokes in his set. Still, he is a robust gagsmith, often taking acidic swipes at celebrities including a deliciously mean jibe inspired by Lenny Henry's Premier Inn ads. More light and shade would add texture to the set, but there are some good punchlines in his pacy routine that provided a solid end to a night of wildly varying quality.
Review date: 30 May 2017
Reviewed by: Steve Bennett
Recent Reviews
What do you think?