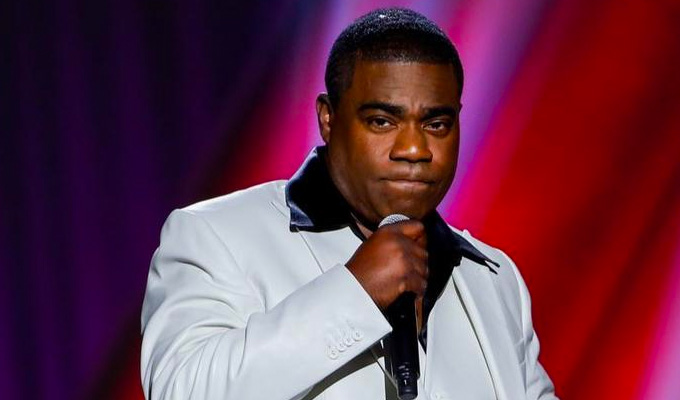 Tracy Morgan: Staying Alive
Being in a near-fatal car crash changes people. And that includes Tracy Morgan. 'I want to do better,' the 30 Rock star says in an uncharacteristically sentimental section of his new stand-up special. 'God gave me a second chance, and I want to do better.'
His comedy is certainly better in this comeback show, his first since the 2014 collision on the New Jersey Turnpike – which left him in a coma with brain injuries and multiple broken bones.
Previously, his act was an unedifying display, crude in content and in execution: a firehose of boastful, charmless filth and vicious misogyny. Staying Alive doesn't mark a complete departure from that. He sill swears as much and will happily wax lyrical about 'eating pussy and sucking titties', but in a more reflective context of his own raging libido and male shortcomings.
One routine makes a distinction between being an asshole and being 'a piece of shit' He may still be the first but is working hard not to be the latter. He sees ageing bad boys like Flavor Flav and vows not to be stuck in the same pathetic state of arrested development.
There's really only one routine that's an unpleasant throwback to his cheaper side: a grubby fantasy about Caitlyn Jenner that glories in disgusting imagery. Morgan is still not exactly sophisticated, and sometimes the brashness is a turn-off, but his excesses have been tempered. Plus he now has a story to tell.
Most of Staying Alive has – unsurprisingly – been informed by his accident. But it's a loose framework, not a tight storytelling format, allowing him to spin off into various seemingly unrelated thoughts. Although there is, actually, a wider idea that this is a show about where he's from and where he's heading, especially now his settlement over the crash has brought him financial security.
To this end. he talks about his earthy family – who all expect handouts from that settlement – his relationship with a much younger, mixed-race wife, and the calming effects of fatherhood. It'd be a hard heart that doesn't melt a little when he talks about him taking his first steps at the same time as his daughter.
His treatment gives him direct inspiration for stories about fantasising over therapist and having little else to do in his hospital bed but masturbate – as well as a cause for reflectionon the second chance he's been given. 'I've missed doing this,' he says of stand-up, and it's very believable.
Morgan still delivers with an angry, pugnacious attitude, though it's not reflected in the sentiments he displays. He says he bears no ill-will towards the driver who ploughed into his limo, killing his friend Jimmy Mack. Morgan even continues to shop at Wal-Mart, the company whose truck caused the crash. After all, the prices are good, even if Morgan jokes that 'after my settlement, everything went up a penny'.
The accident has spurred him on to become a better man. He is also becoming a better comedian.
• Tracy Morgan: Staying Alive is out on Netflix now.
Review date: 19 May 2017
Reviewed by:
Recent Reviews
What do you think?