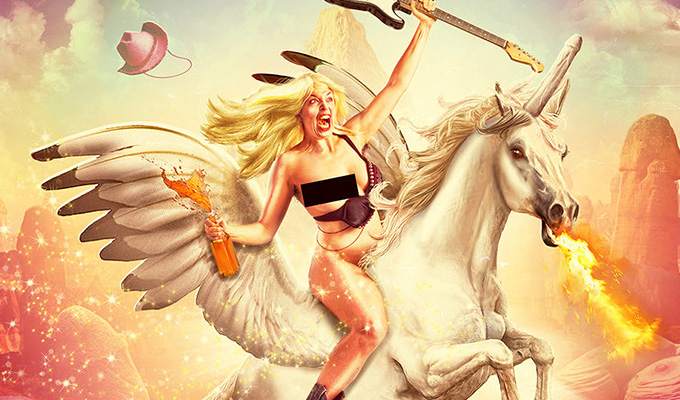 Shirley Gnome: Taking It Up The Notch
Note: This review is from 2017
Dressed in a shocking pink cowgirl outfit that was made for her by a stripper and brandishing a glittery guitar, Canadian cabaret performer Shirley Gnome starts her show by singing about items she can shove up her vagina. The lyrics are illustrated too, though not in a graphic way. This is starting to look like a long hour already… and then she warns: 'It will only get worse.'
After some long-winded set-up it's on to how much she likes Australia because you can drop C-bombs here with impunity, which she does liberally, then on to a song about killing an irritating yapping dog and complaints that vegans (guess what?) can have an annoying air of superiority. This leads to a song about – and there's no polite way of putting this – guzzling cum.
Sophistication is not her strong suit; this is very much the world of the single entendre rather than the double. Some might see such straight-talking as refreshing, though it doesn't really display much invention to be so blunt. Still, there's always a market for filthy songs, and she takes great pride in telling us that she's got a record deal back home, which is what has financed her trip down under.
Yet for all the unsubtlety of material, Gnome is a disarmingly likeable performer, cheerfully upbeat in the way she celebrates the dirty. Her open and warm nature, always in contrast to the often grubby images she's presenting, allows her to get away with a lot.
And the surprise is that the show gets a little more nuanced in the second half, once she sheds the country get-up for a song that very much encapsulates the notion that 'hey, my eyes are up here' with a hilarious visual gag. Then, for want of a better phrase, she takes things up a notch.
Her humour always remains below the belt, but the performance gets more confronting in a good way, as she draws out positive messages about how you shouldn't be ashamed of your body or about sex. In retrospect, her manner always suggested that - even if the earlier tracks need those very taboos to be in place to be considered funny or naughty at all.
So still dirty songs, but empowering ones. Maybe.
Review date: 13 Apr 2017
Reviewed by: Steve Bennett
Recent Reviews
What do you think?