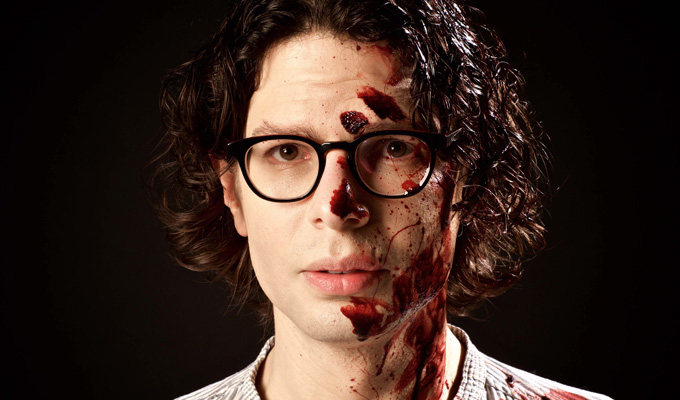 Simon Amstell: Carnage
There's no doubt that Simon Amstell's Carnage is a film with a very heavy message.
Set in a utopian 2067 when all of society is vegan, the mockumentary looks back at a time when humans ate other animals with the sort of visceral disgust that 2017 viewers might watch first-hand footage of the Nazi Holocaust. In this version of the future, Captain Birdseye is akin to Joseph Mengele, a Nigella Lawson clip like a sickening snuff movie.
Amstell doesn't shy from the horrors of the slaughterhouse nor the realities of dairy production, with animals 'raped for their milk'. And away from those hefty ethical questions, the massive contribution livestock and dairy farming makes to climate change also gets coverage – all in a film billed as comedy. 
 This is undoubtedly another polemical product from the commissioners – at BBC iPlayer –  that also ordered Adam Curtis's HyperNormalisation,  so no wonder Carnage includes a wry in-joke about the Corporation's left-slanted liberalism. And another about the folly of making a film about veganism in the first place. 
But has the comedian managed to make this topic, so obviously close to his heart, funny? Well, it's not always laugh-out-loud very often, but Carnage is as entertaining as it is thought-provoking.  Even 'entertaining' comes as quite a surprise for such a weighty subject, but more minds will surely be changed by Amstell's light-touch approach than a real documentary about the barbarity of the meat industry.
So while the cruelly of the business is rarely far away, Amstell takes the view that eating animals is ridiculous, then highlights that absurdity from the distance of history. He has been especially skilful in blending his fake footage with real-life archive – especially clips emphasising the beardy-weirdy image vegans had before Hollywood trendies boarded the bandwagon – so sometimes it's hard to know what's true and what isn't. That's emphasised by the comedian's own narration, authoritative even when being absurd.
In his directorial debut, Amstell's credible storyline has the tide of public opinion turned by the activism of grime artist, a mainstream BBC drama in which Dame Eileen Atkins plays a dementia sufferer who forget the social conventions that it's OK to each chicken, and – this is where credibility does break – the invention of a machine that reads animals' thoughts. Vegans come to reject the label that sets them as outsiders and start calling those who eat meal 'carnists', coining a judgmental language of their own. It's the same sort of cultural story arc that has made other once-extreme positions the norm over time.
James Smith – best known as Glenn Cullen from the Thick Of It – is brilliant as a reactionary commentator clinging onto the past, while also skewering some of the more faddish aspects of veganism, a little balance to ensure not all vegans are filmed a rose-tinted lens. And proving that yes, vegans are allowed to have a sense of humour too.. Look (and listen) out for further cameos from the likes of Joanna Lumley, Kirsty Walk and Vanessa Feltz.
There's not doubt Carnage will cause both meat-eaters and vegetarians to think twice about their choices. But more crucially when it comes to deciding whether or not to watch it, it's a fascinating 'what if?' scenario – almost akin to a Black Mirror premise – that could prove prophetic.
• Simon Amstell's Carnage will be available on iPlayer from 9pm tonight. Amstell talks about the film here.
Review date: 19 Mar 2017
Reviewed by: Steve Bennett
Recent Reviews
What do you think?