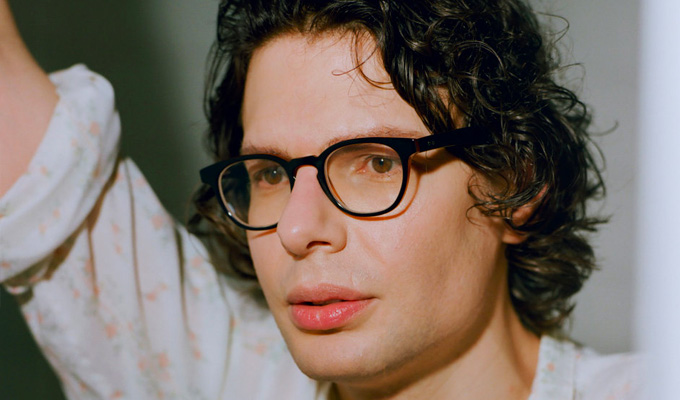 'I'm not an activist. I'm a clown'
Simon Amstell planned to make a film in which meat-eaters were put on trial like war criminals – until the BBC talked him out of it.
The vegan comic is about to launch his first film, Carnage, about a future in which no one eats animal products and society looks back in horror at the time of the slaughterhouses.
But he said he was dissuaded from basing it around the trials of celebrity carnivores by Victoria Jaye, the head of content for BBC iPlayer, which will release the movie on March 19.
Instead the narrative of the mockumentary – which mixes archive footage with sci-fi drama – is driven by psychotherapists trying to reconcile the peace-loving vegan youth of 2067 with their misguided meat eating elders - the reviled 'carnists' of history.
The youth of the future are seen cavorting happily on Hampstead Heath, feeding each other falafels and enjoying 'throuples' - relationships with three people in them.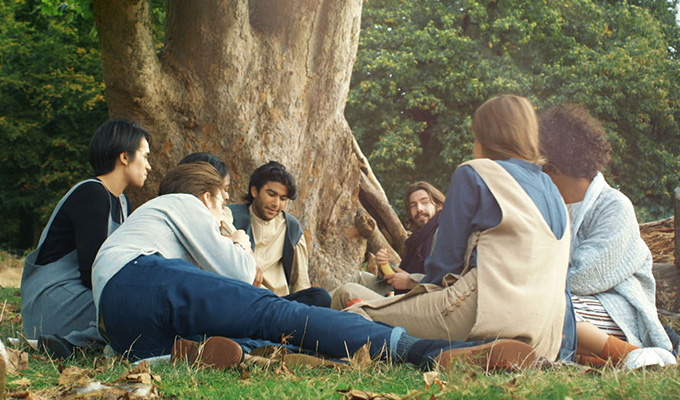 ​
Amstell, who became a vegan in his twenties after a trip to Thailand, said he was inspired by the hard-hitting animal-rights documentary Earthlings.  But he said he wanted to make a different sort of vegan film.
'I thought it would be a good idea to make something funny so the message could be put across in a way that didn't traumatise people. I'm not an activist.  I'm a clown. I was going for funny.'
He said the film came about after BBC Studios producer Janet Lee asked if he I had any ideas that would be 'odd enough' to go on to the iPlayer.
He said: 'I had a bit of stand-up where I positioned myself in the future looking back.  One of the bits was: "Remember when people got upset when their pets died but when other animals died they ate them."'
He was speaking to film critic Mark Kermode at a preview screening of Carnage at the BFI on London's South Bank last night.
The film has a stellar cast including Martin Freeman, Joanna Lumley, Dame Eileen Atkins,  Lindsay Duncan, Alex Lawther, Gemma Jones, Linda Basset, Mawaan Rizwan and John Macmillan. Appearing as themselves are Kirsty Wark, JME, Lorraine Kelly and Vanessa Feltz.
Amstell, who wrote, directed and narrates the film said: 'Once Joanna Lumley had agreed it felt like it was happening."
Carnage incorporates real events, such as BSE, foot and mouth disease and the obesity crisis alongside imagined news stories about a future crisis in factory farming and the development of technology that allows communication with farm animals.
Meat-loving TV chefs such as Nigella Lawson, Hugh Fearnley Whittingstall and Gordon Ramsey are seen as grotesque and nightmarish figures from the past, with real clips from their television shows given an ironic commentary by Amstell. So information about factory farming, animal rights and global warming are conveyed while he playsfor laughs.
Amstell said he believed the tide was turning and that veganism was becoming more acceptable.
'At the moment the weird person is the vegan but I think at some point there is going to be a shift over the next five years maybe.'
He said he worked closely with producer Daniel O'Connor to create a believable logical vision of a vegan future.  The film-makers also worked with a futurologist who advised on the sort of personalised embedded media technology that might be possible by 2067.
Amstell recently announced a stand-up tour (Dates and tickets) and said he plans to develop a full length fictional feature film.  The comic said he was also working on a book, which is a mixture of stand-up routines with other bits of writing.
The BBC hope that Carnage: Swallowing The Past, the first iPlayer feature length comedy, will build on the success of Adam Curtis documentary Normalisation, which attracted one million viewing requests within the first month it was available.
- by Claire Smith
Published: 1 Mar 2017
What do you think?