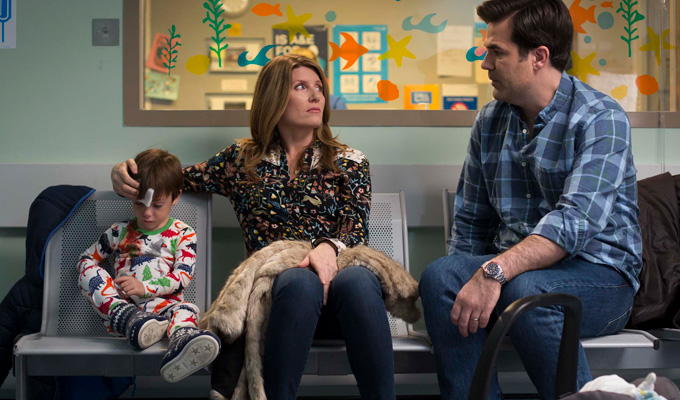 Catastrophe Series 3
Between seasons one and two of Catastrophe, the action leapt forward several years to land Sharon and Rob with two young kids. But no such trickery this time around, as series three starts exactly where the last one ended: with Rob finding a receipt for the morning-after pill his partner brought after a drunken fling, and Sharon with some explaining to do.
That drama is relatively quickly defused, not least because a new family crisis shifts focus. Were this a soap, their argument would be all fury and high stakes, but Catastrophe has a more subtle scripting than that. As writers, Sharon Horgan and Rob Delaney heap a huge series of unfortunate events on their alter egos, a combination of circumstance and human failings as their ill-equipped characters struggle to be the grown-ups their age dictates.
Even the superficially together Rob is a mess beneath the surface, and this run sees the former pharmaceutical industry high-flier struggle with being a stay-at-home dad, facing job interview rejection… and is that the first signs of alcoholism we see, covering his breath? Meanwhile, Sharon's heading back to her schoolteaching job in an effort to make ends meet.
Catastrophe's forte is its credibility. The characters, and their reactions to the slings and arrows, feel genuine, even as the situations heighten towards comic set-pieces.  And the cab scene here is a sure highlight.
We like them, too, for their shortcomings and the identifiable way they muddle through the best they can. And for all their relationship sprang from pragmatism, it seems like a rounded partnership. They laugh together and have sex (playful, erotic, functional or a combination of the three) while circumstances, self-inflicted or not, try to impose on their efforts to make it work. This is more like real life that most sitcom couples, and their wit is more innate.
Series three seems to be developing the dramatic aspect of the domestic situation even further than before, and is therefore perhaps a bit more serious in its undertone than its predecessors. However, it's still plenty funny enough to be categorised as a character-driven comedy, rather than the more equivocal 'comedy-drama'.
• Catastrophe returns to Channel 4 at 10pm tonight.
Review date: 28 Feb 2017
Reviewed by: Steve Bennett
What do you think?