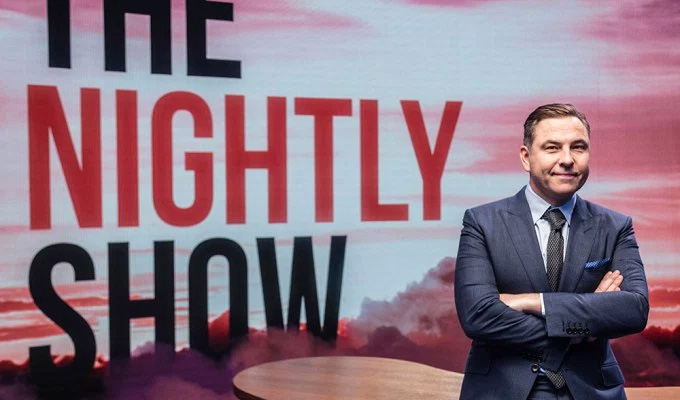 The Nightly Show
The Nightly Show has been billed as ITV's attempt to replicate the success of the talk shows that have long been a staple of American TV, combining interviews with comedy sketches.
In fact, by going into prime-time it's more ambitious than that. James Corden's Late, Late Show is said to be an inspiration, but it attracts an audience of just 1.34million in a country of nearly 320million because it airs at just after half past midnight. The online success of strands such as Carpool Karaoke dwarf the size of its live viewing audience.
So to shift the main evening news half an hour to make way for this new five-nights-a-week cavalcade is a massive gamble. Or perhaps a savvy acknowledgement that viewers no longer want to sit down for an authoritative summary of the news they've already heard over the course of the day, so an entertaining take on the stories is more relevant.
David Walliams – who hosts the first five nights – had a godsend of a talking point to kick off the series, thanks to the Oscars snafu. He opened, as he must, with a monologue largely focussed on it. 'It's not the wrong time the wrong name has been called out in the moment of climax', he quipped along with some snipes at the red-carpet glamour and gags about the graceful loser face every non-winning nominees must pull for the camera.
There aren't many jokes in this short section, and the ones there are, are pretty poor. When they mention Donald Trump, the gag is based on his small hands. That's going to get very tired, very quickly if the writers going to avoid anything of substance.
There is, as expected, lots of lightweight innuendo. Often rather than skewering the news Walliams is very often at the centre of the jokes. There are quips about his camp image, his friendship with Simon Cowell, and who switched the envelopes? Of course he did… Oh and look, here he is dragging up in a La La Land spoof. Not once but twice.
First guest was Martin Clunes, there to plug Doc Martin. A lovely chap but not the biggest name to kick off IVT's biggest show. 'Why are you killing the series off?' Walliams asked. 'We're not,' said Clunes. Great research for one ITV show on another.
From behind the desk adorned, as all are nowadays, with quirky clutter, Walliams read some raunchy fan fiction in a section that Graham Norton would surely have done so much more naturally, though Clunes was a good sport in a quick fire Q&A and with a spoof ad for a pie shop, despite another pisspoor script. If producers are hoping this will have the viral appeal of Corden's skits, they'll surely be as disappointed as anyone who viewed the show.
In a closing performance slot, Nina Conti got some more mainstream exposure – and, yes Walliams initially introduced the ventriloquist with the inevitable 'hand up the arse' joke. Her ever-imaginative take on the art form was a highlight, though quite how many viewers lasted the 23 minutes until she was on may be open to question. Shame, as Conti's well-honed trick of making Clones into a human puppet, complete with Cockney geezer voice and daft dance, was a long-overdue high point.
In the intro, Walliams joked that confused viewers might think 'the News At Ten's gone a bit down-market'. Downmarket's not the issue, bland is. The Nightly Show does not feel like the mustn't-miss proposal that ITV need it to be. The gamble hasn't paid off.
Review date: 27 Feb 2017
Reviewed by: Steve Bennett
Recent Reviews
What do you think?