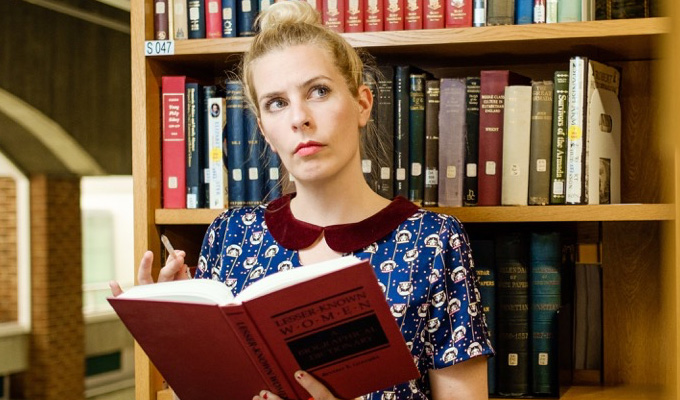 The Miller Comedy Festival opening night
Creating a comedy festival in a venue that already hosts such shows every night of the week is a tall order. But The Miller near London Bridge got its week-long exercise off to a cracking start last night, with an opening gig headlined by Sara Pascoe.
You may well have seen her on Mock The Week trading jokes with her comedian boyfriend, John Robins, about their life together. Well, that relationship is now over, which means the moratorium on all the stories she'd respectfully agreed not to share on stage these past five years is now lifted.
Divulging such confidences – and others that are entirely about her own erratic behaviour – gave Pascoe's set an illicit tone, forming a conspiracy of trust with the audience. That provided a frisson of naughtiness, enhanced by the immediacy of the still-raw material she was keen to get off her chest.
The frankness has a potency, especially a tragi-comic anecdote that drives home the emotional terror ride of her pre-menstrual tension – an education for those who don't have periods, a source of recognition for those who do. Further edge comes from a thinking-aloud bit that has her wonder: 'What's so wrong about incest anyway?'
Yet for all that the set derived from its rawness, she's already written damn fine jokes off the back of it, making a perfect combination of the unpredictable intimacy of a live gig and the skill of a great writer. This looks set to be the cornerstone of a very impressive hour.
Pascoe was but the cherry on a strong bill, however, and was preceded by Dane Baptiste, initiating the decidedly comfortably-off audience in the ways of the working classes. Apparently one doesn't ask for the wine list in McDonald's.
With a cool, dry delivery he exudes an air of authoritative confidence – a gravitas amusingly at odds with the often silly statements he's making. Old tropes such as watching porn or even 'I like my women like…' are given sardonic new twists from a man weary beyond his years.
If Baptiste is not quite all he appears, the same is true of host Abigoliah Schamaun, whose distinctive fashion and body art choices suggest a vehemently alternative standpoint. (She's obliged to do a 'no, I'm not a lesbian - surprise!' line)
Yet the material is often as approachable as it's possible to be – the differences between Americans like her and Brits like her boyfriend, for example – while she's also able to open up new lines of attack on the well-worn subject. In later interludes she got more personal and social, whether it be on the idea of 'slut-shaming' or her selfishness, while making points with charm and wit.
On the compering front, she could have made more of some of the audience interactions – the woman who gave her job as 'YouTuber' was quickly skirted past, for example – but on the strength of her affable personality she set a mood conducive to good times.
The night kicked off with Glenn Moore, a well-spoken act with a precisely written routine that packs in the gags, often built on wordplay. His best lines would be worthy of James Acaster – and said in a similar comic voice ('little does she know at what temperature I like to keep my cucumbers…') – and especially strong are his peculiar leaps of imagination based on everyday observations. Some jokes are more straightforward, including a couple that other comics have had before him, but the impressive rate means you're never far from something you'll like. And in his tight-knit narratives, he's the callback king.
Closing the first section was Chris Martin, who by his own description is 'a standard human'. Indeed, he's one of a generation of comedians whose careers are founded on being the same as their audience, rather than being boldly different. Still, he has honed a compelling way of telling his everyday stories, especially on how, at the grand old age of 30, his 'good guy' persona has finally won out after women tired of the bad boys.
There's often a risk that good storytellers let their command of the audience substitute for strong material, and Martin occasionally falls in to that trap, not least with a run of bread-based puns, framed in the context of a WhatsApp exchange. But as his life experience grows, so too does his comedy, and there are plenty of impish gags here, not just interesting yarns.
Review date: 31 Jan 2017
Reviewed by: Steve Bennett
Recent Reviews
What do you think?