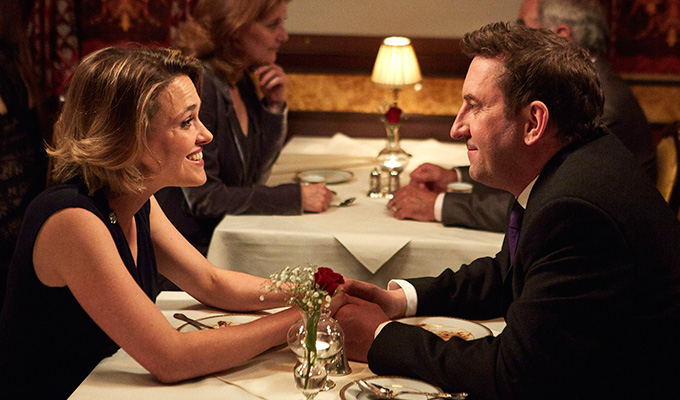 Not Going Out series 8
Note: This review is from 2017
Setting records for longevity means Not Going Out has had to be adaptable, working around the loss of its original female lead (Megan Dodds), its slapstick comic foil (Miranda Hart) and its second male lead (Tim Vine).
Now, for series eight, it has undergone its most substantial regeneration yet, as the will-they-won't they romance between Lee Mack's character Lee and Sally Bretton's Lucy has been resolved conclusively.
The timeline has moved on seven years since the end of the last season and they are now married with three kids, the sitcom's gorgeous establishing shots of London's nocturnal skyline replaced with ariel swoops over suburban high streets where they now live, toys scattered on every step of their home. The very title, which once referred to their relationship status, now acknowledges their non-existent social life, restrained by responsibility.
Not Going Out has never been ashamed of being a sitcom. The first-hand 'dramedy' realism of Fleabag or Catastrophe, so in vogue, comes a distant second to the gags delivered to a studio audience from an old-school fixed three-wall set. The child actors here are very much stage school 'sitcom kids', affecting the innocent look or adorably saying 'uh-oh!' like Outnumbered's authentic dialogue never happened. Yet that doesn't men the audience don't relate to Lee and Lucy's more everyday travails on which all those gags are hung.
The plot for this opening episode is as old as it comes, as the long-married couple fret about whether the romance and intimacy has evaporated from the relationship - especially as one of them has forgotten their anniversary. There's a bit of a twist, though, as it's the husband voicing these fears as the wife forgot… especially as Mack's alter ego is supposed to be the feckless one.
In the new dynamic, Bretton has a more substantial role, beyond eye-rolling at the follies of wisecracking Lee, and relishes it. Meanwhile the supporting cast provide plenty of comic potential, too, not least those who emphasise the class divide at the heart of this sitcom, like so many before it. Stand-outs are Abigail Cruttenden's loathsomely snobby Anna, and Geoffrey Whitehead's conservative, superior and constantly disapproving Geoffrey Probably the biggest laugh of the opening episode comes as he says simply: 'Most pleasant' - demonstrating his mastery of understatement and timing.
Not Going Out isn't the sort of emotive, appointment-to-view comedy that so many artistically motivated comics are making. But the rarity of being a light sitcom that's dependably funny thanks to script and character – not the dated, grating extravagance of the likes of Citizen Khan or Mrs Brown's Boys – is quite the achievement. No wonder it's future is assured. The day Not Going Out is not going out on TV is a long way off.
• Not Going Out returns to BBC One at 9pm tonight, with two more series already commissioned.
Review date: 13 Jan 2017
Reviewed by: Steve Bennett
Recent Reviews
What do you think?