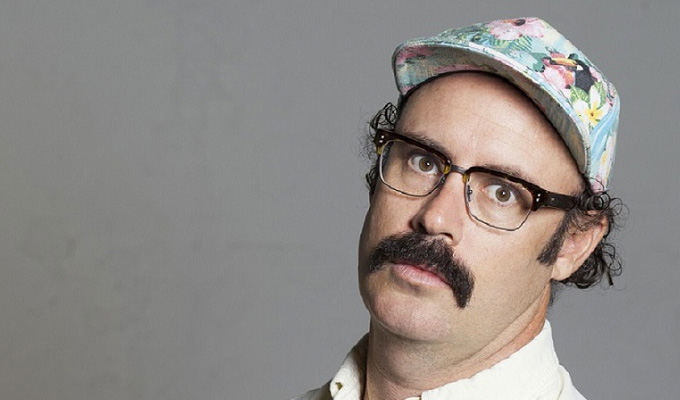 Sam Simmons: Not A People Person on Radio 4
Note: This review is from 2016
As you might expect from the Australian absurdist, Sam Simmons's first foray into Radio 4 is a weird, trippy late-night experience.
Although titled after his Edinburgh comedy-award winning show, Not A People Person is a different proposition from his stand-up… and indeed from normal programming.
Not that it's obvious from the start, as initially this seems like the genuine documentary it's purporting to be, a bird-lover travelling the globe to track down extraordinary examples, starting with a trip to Toronto hedge to spot Margot's Fiddle Warbler. For the first two minutes all seems straightforward, which could even hoodwink genuine birders… but then the subversion comes as a group of Italians on Vespas scare off the bird,.
Preposterous over-reaction ensues, with Simmons unloading years of pent-up frustrations only tangentially related to the current irritant in hand, like an antipodean Basil Fawlty.
His racist reaction to the Italians – for what could be more suitable fodder for an absurdist than racism? – is countered by his producer, played Henry Paker, attempting to be the voice of reason against the nonsensical diatribe. Although sometimes it's just internal monologue that expresses these strange and outrageous thoughts. 
With Simmons's comic persona, everything has to be a huge drama… even something as simple as catching a bus requires a call to a helpline (voiced by Sarah Kendall, a recurring part of this four-part series). This quotidian task sudden gets all the tension of Sully landing on the Hudson.
The general weirdness is well-reflected in the ephemeral soundscape, designed by Craig Schuftan, that suggests the interface of madness and sanity conveyed by Simmons's writing. 
The payoff is a little offhand, just when you were invested, but the aural alternative reality is an engrossingly peculiar place to hang out.
Listen out, too, for comedy favourite Mike Wilmot as one of those troublesome scooter-irritants.
Review date: 28 Dec 2016
Reviewed by: Steve Bennett
Recent Reviews
What do you think?