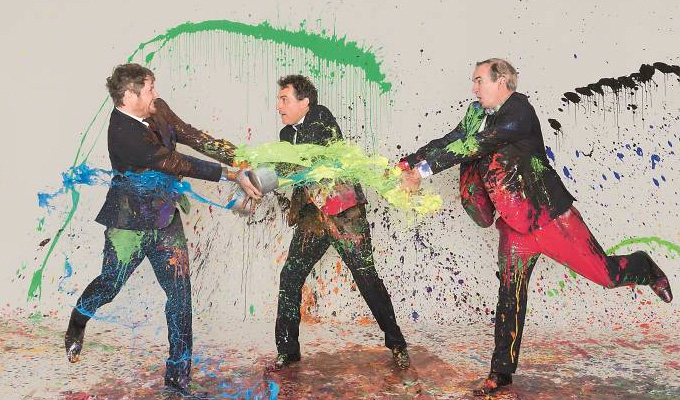 Art, with Tim Key, Paul Ritter and Rufus Sewell
Note: This review is from 2016
What is Art? Well, it's Yasmena Reza's remarkably enduring tragi-comedy, now being revived at the Old Vic with Tim Key, Paul Ritter and Rufus Sewell playing the three friends, whose relationship is wrenched apart by that very same question: what is art?
The argument is sparked when Sewell's charismatic Sergé blows €100,000 on a piece of art which is, more or less, white paint on white canvas, outraging traditionalist Mark (a snippy, scoffing Ritter), who considers it faddish and without merit. For his part, Sergé doesn't expect Mark to love it, but he does expect some understanding of why he loves it.
Matthew Warchus, the theatre's artistic director who made his name with the UK premier of Art 20 years ago, sees a resonance here in a world divided by Trump, Brexit and any other ideological conflict you care to name. How good are any of us at accepting someone else's passions and points of view, he asks in the programme notes. 
Art, the play, is not about the division between free-thinking modern art and nostalgic traditionalism - well not much, anyway, which is a good thing as that's a well-worn debate. It's more about honesty and righteousness in human relationships, and in the case of Key's Yvan how much you hold your counsel for the sake of maintaining that friendship.
Key is increasingly making his name beyond the comedy circuit by playing mild-mannered 'berks', with a nest of insecurities barely held together behind a front of awkward banter, and in Yvan he steals this show from under the noses of the more established stage actors.
Caught in the middle of the two feuding friends, Yvan maintains his tolerant middle ground as the first half of the interval-free 90 minutes pootles along philosophically, pondering on the nature of criticism.
'You can say you don't get it, but you can't say it's shit,' is Sergé's opinion, pointedly believing Mark doesn't have the 'training' to understand the minimalist piece. In return, Mark wonders if Sergé is really loving the canvas for the 'right' reasons, of just a slave to cultural fashion. 
The script is pointed, efficient and literate, although we're not quite invested in the friendship that comes to be at stake over the extravagant purchase. But the production jolts up a gear when the previously spineless Yvan comes to breaking point – and not even about the painting. For his attempts to keep everyone happy erupts into a rant over the stresses of wedding planning that's full of the intense, comic frustration of a man trapped by his own shortcomings.
It sparks the spectacular collapse of the relationship between all three, in a flashy, fizzing exchange of brutal dialogue as they each lay their cards on the table. The laughs are played up well, even in the occasional pregnant pauses – perhaps no surprise given the backgrounds of Key and Friday Night Dinner star Ritter – but possibly at the expense of subtler dramatic notes. And the script is so precise that it gives the characters a theatrical detachment.
But that well-engineered machine certainly delivers the drama and laughs it promises; while Key's performance is another notch on his increasingly impressive CV.
Review date: 21 Dec 2016
Reviewed by: Steve Bennett
Recent Reviews
What do you think?