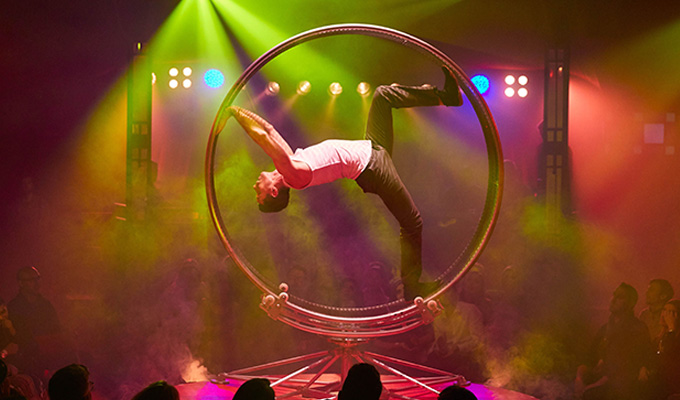 La Soiree 2016
La Soiree has become as much as a part of London's festive landscape as the Trafalgar Square Christmas Tree. And now, in its new home, slap-bang in the middle of Leicester Square, it has never been more high profile.
Yet little has changed in the feel of the show, with its parade of dazzling and jaw-dropping acts that combine burlesque cheek,  carnie spectacle and humour. Most of the line-up, which can vary between nights, will be familiar from previous Soirees, but this modern circus certainly bears repeated viewing. In fact, return visitors will probably be waiting for their favourites to reappear on the intimate stage.
Power-voiced soul diva Acantha Lang is a new addition, getting the party started with some of R&B's more soul-shakin' hits. Her rendition of Aretha Franklin's Think led into Soiree stalwarts The English Gents, with their stylish, witty and awe-inspiring feats of acrobatic strength and poise, achieved, with typically wry understatement, without losing their bowlers, dropping their Financial Times or creasing their pinstripe suits. At least until they shed them to display sinewy torsos harder than the Times Cryptic Crossword. Spiffing!
Both chaps also have their solo slots. Hamish McCann performing his memorable pole act, segueing from Singing In The Rain to Feeling Good with artistry and brawn. Meanwhile, pipe-puffing Denis Lock shows an exquisite delicacy for one so muscled when he presents his bubble act, reducing the audience to a state of child-like enchantment with his fragile, beautiful creations. For all the grand spectacle, this quiet moment is the most captivating.
La Soiree wouldn't be La Soiree without Captain Frodo, an hilarious physical clown who uses his double-jointed flexibility to achieve the seemingly impossible feat of squeezing his body through two tennis racquets. But the joy is not so much what he does as the way he does it – valiantly battling to maintain his dignity as he crashes around, twisted into cartoonishly unlikely shapes and throwing confetti as if to sprinkle stardust onto his demeaning and foolish situation. He is the perfect clown.
Another Soiree stalwart is Ursula Martinez, who after 20 years is performing her famous magical striptease act – in which we can be absolutely sure she's not concealing anything up her sleeve – for the last time.In honour of her heritage, she also gives the audience a comic Spanish lesson, with jokes to be spotted in the semi-understood language – a technique that comedy newcomer Emma Sidl has used in her last two acclaimed Edinburgh shows, too.
More comedy comes from Daredevil Chicken, a brash, raunchy parody of shiny-faced Vegas entertainers with a gross-out comedy that causes uproar in their brief, disruptive appearances. For a more sedate pace, Olivia Porter offers a new take on juggling that's more like a measured, characterful dance piece than the familiar street-entertainer shtick. Satya Bella brings a similar artistry to hula-hooping, the circus skill that's usually the most resilient to innovation. But thanks to some unlikely lighting technology, as well as a whole heap of dediction, she manages it.
Jarred Dewey is a little more conventional as an arial act… although he does perform in vertiginous stilettos, and has one very painful-looking suspension likely to make you wince. And there's more acrobatic skill with David Girard, and his human-sized hamster wheel, pictured above.
All is served up with the spangly showmanship and the cheeky humour we've come to expect from this riotous reinvention of the variety show, cementing its reputation as the ideal festive night out.
• La Soiree runs at the Spiegeltent in Leicester Square until January 8.
Review date: 5 Dec 2016
Reviewed by: Steve Bennett
What do you think?